These twice baked sweet potatoes are loaded with vegetables. They are the perfect side dish for a Sunday dinner. If you also have leftover, you can eat one of these veggie loaded sweet potato on it's own for lunch!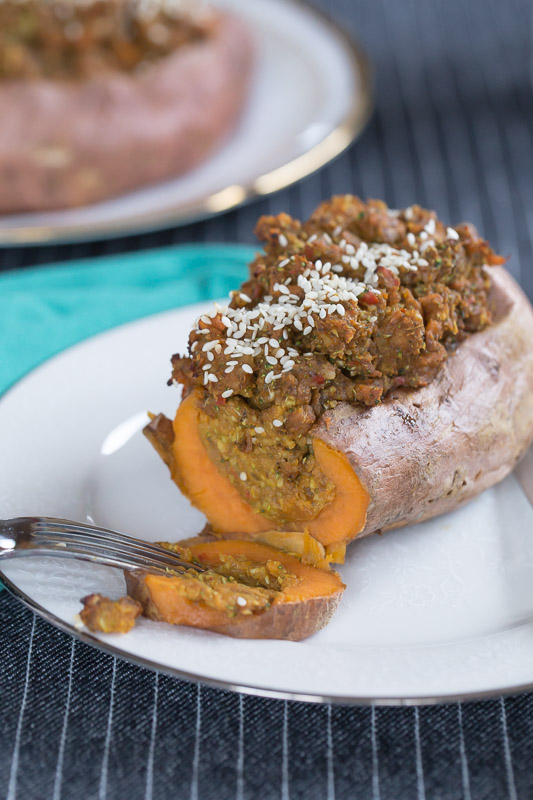 Preparing these twice baked sweet potatoes is a bit of work, but totally worth it if you ask me! First, you bake the sweet potatoes in the oven. Then, the rest is simple: you scoop most of the flesh out, mix it with other veggies and spices, and fill it up again.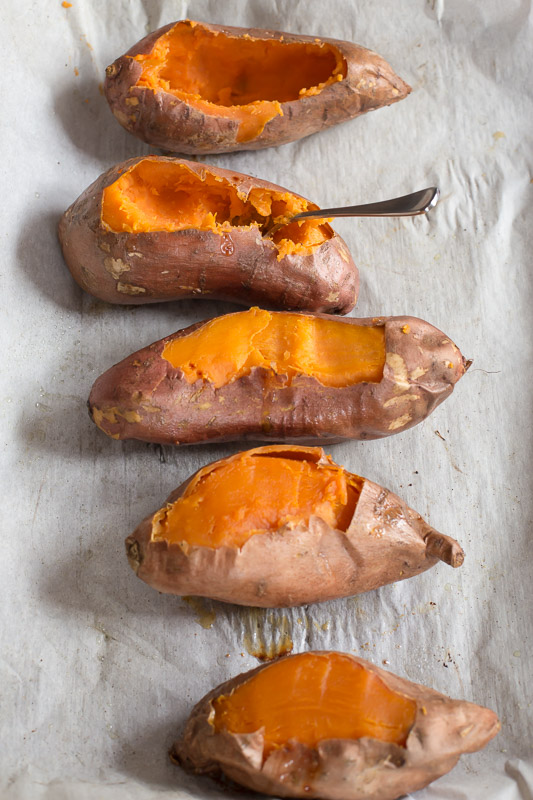 I love to top these with sesame seeds, but if you eat dairy, you could top it with fresh parmesan cheese before you bake them again. Don't get discouraged by all the steps and give it a try

You can definitely change up the vegetables and use what you have on hand. To mix it up, you could even incorporate olives or sundried tomatoes!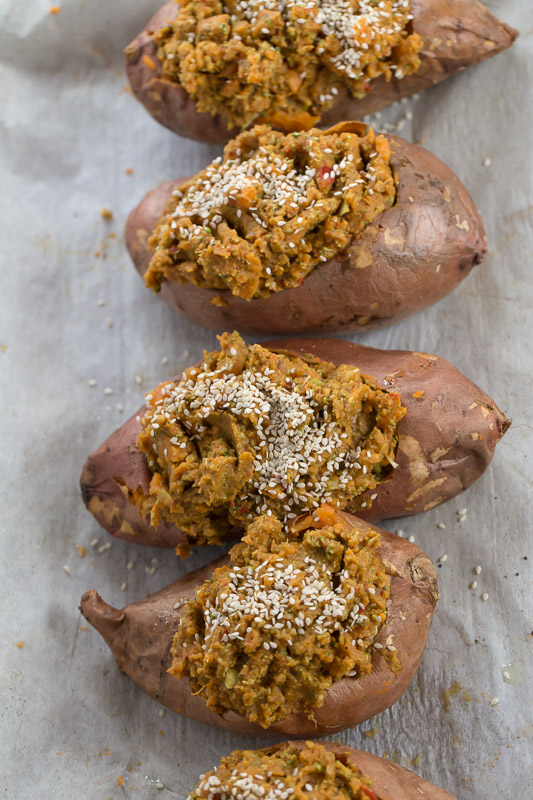 Veggie Loaded Twice Baked Sweet Potatoes
These twice baked sweet potatoes are loaded with vegetables. They are the perfect side dish or can also be eaten on their own for lunch.
Ingredients
5 medium size sweet potatoes
1 tablespoon grapeseed oil
For the stuffing:
½ cup walnuts, roasted
2 cups broccoli florets
1 bell pepper
8 white mushrooms
3 tablespoons nutritional yeast
1 teaspoon garlic powder
1 teaspoon turmeric
1 teaspoon ground cumin
½ teaspoon sea salt
½ teaspoon black pepper
1 teaspoon sesame seeds (for topping, optional)
Instructions
Preheat oven at 400 degrees F.
Wash sweet potatoes and pat them dry. With a fork, poke a few holes in each of the potatoes and rub grapeseed oil on the potatoes.
Place potatoes on a parchment lined baking sheet and bake in preheated oven for 50-55 minutes, or until tender when a knife is placed in the center of the potato.
While the potatoes are cooking, place walnuts, broccoli, pepper and mushrooms into a food process and chop everything.
Transfer into a large mixing bowl and add the nutritional yeast, garlic powder, turmeric, cumin, salt and pepper. Mix well.
Once the potatoes are baked, cool them until you can handle them without burning your hands and carefully cut a small slice off the top of each potato to expose the flesh.
Scoop the flesh out of each potato, leaving about ½ inch thick of flesh into each potato shell. Place sweet potato flesh into the mixing bowl and combine with all the other vegetables.
Scoop the stuffing back into each potato shell. Top with sesame seeds.
Bake in preheated oven for about 15 minutes.
Serve warm.