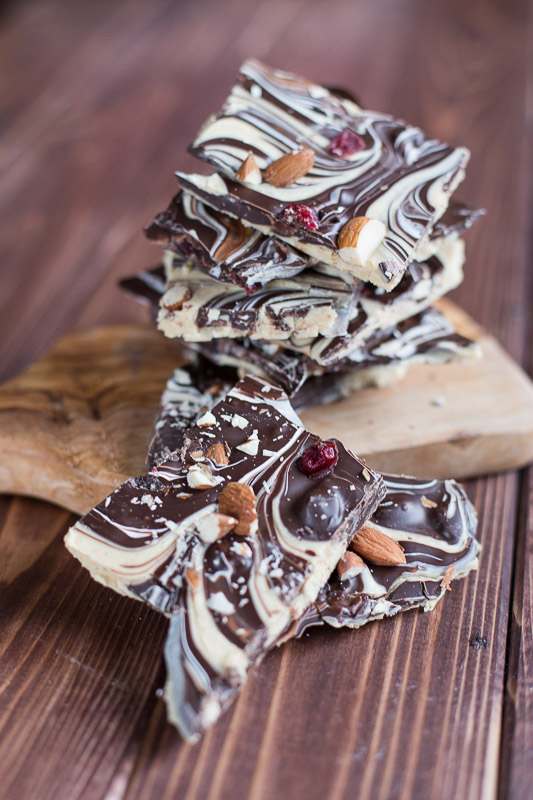 Chocolate bark is the perfect treat to have on hand during the holiday season. This gorgeous festive bark is made with only 5 ingredients and it is so beautiful and delicious! It is the perfect gift for friends and colleagues, and the perfect snack when you want that chocolate fix!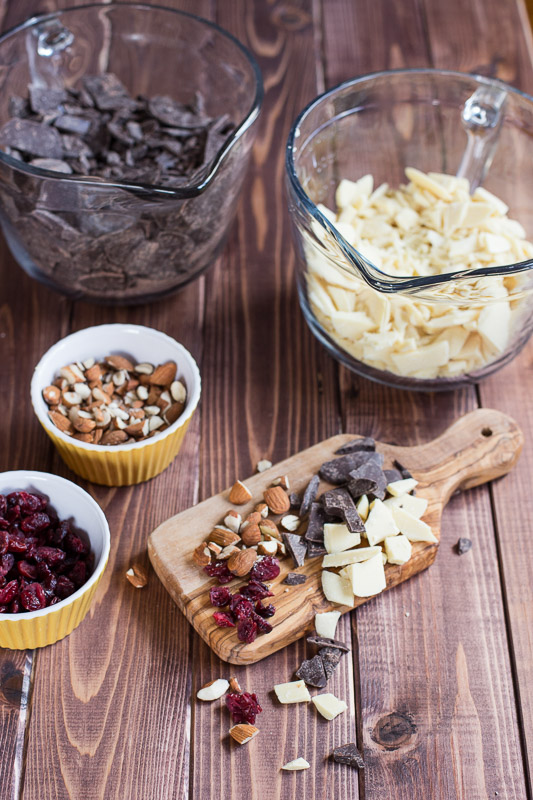 This festive bark is made with the best ingredients, where swirls of dark Belgian chocolate are melted with white chocolte. The chocolate also contains almond butter and is topped with almond and cranberries to add crunch, sweetness and colour.
The process to make this chocolate bark is quite simple and here are a few step-by-step pictures. You first temper your chocolate by following the easy instructions in the recipe below. I followed the procedure for tempering chocolate from the Cook's Illustrated and it gave such a beautiful result! The chocolate is all shiny and snappy, if you have never tempered chocolate before, I truly recommend you try it, it makes a world of difference with the final result! Once your chocolate is tempered, you mix in almond butter in white chocolate and almonds and cranberries in the dark chocolate.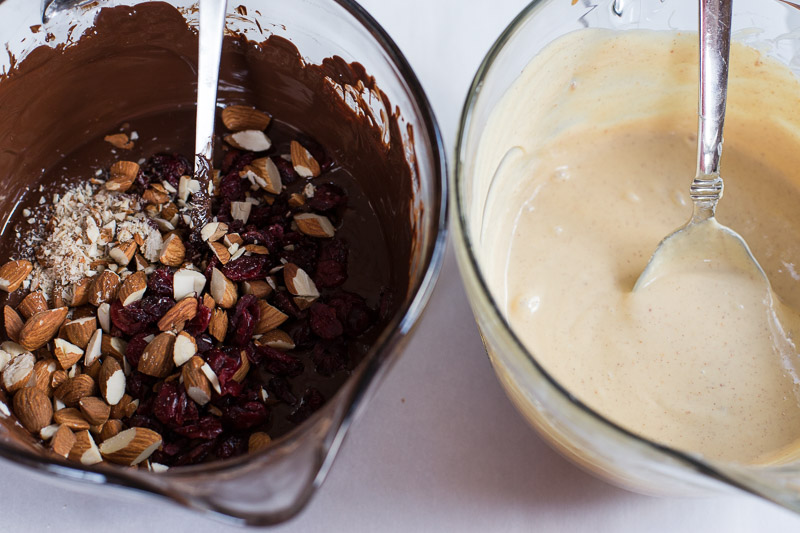 Then you drop spoonfulls of that rich white and dark chocolate onto a parchment lined baking sheet. It does not need to be even since you will then swirl it!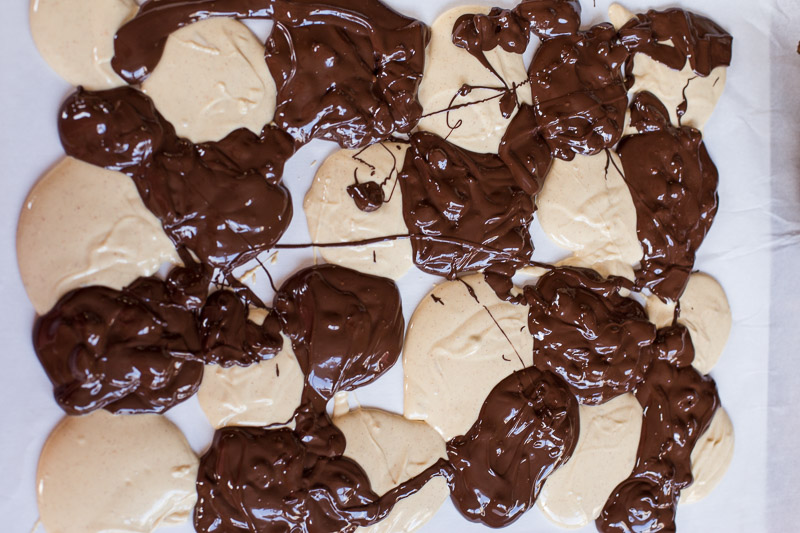 Using a butter knife or chopstick, you then trace horizontal and vertical lines in the chocolate to create beautiful swirls and smooth the surface.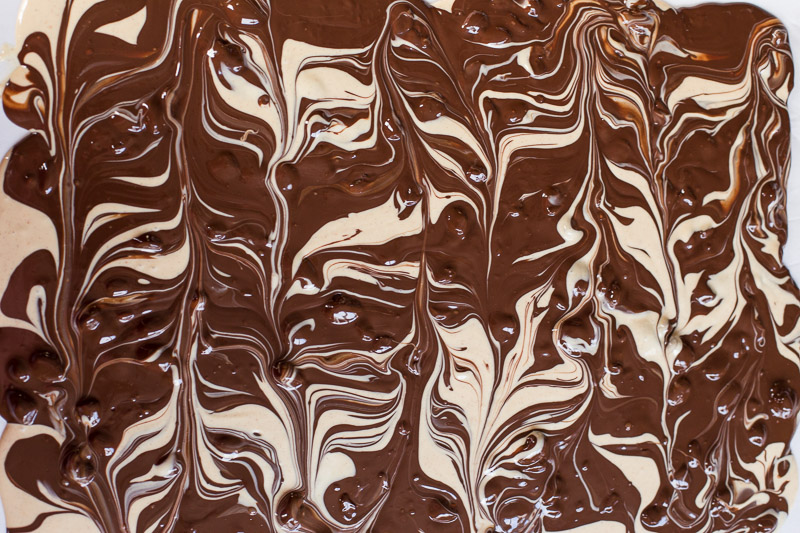 The final step is to throw the rest of the almonds and cranberries to top your this beautiful bark! Then, you simply need to let it cool down at room temperature for a few hours, and finally break it into pieces.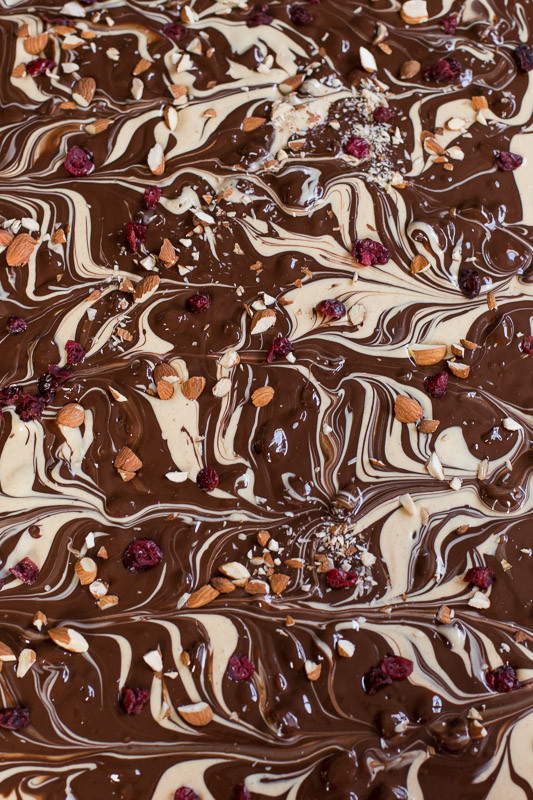 Chocolate bark can be so expensive when you buy it in the store, so I strongly encourage you to try making your own! You can change up some of the ingredients to make it with your favourite toppings and you will have gorgeous treats to share with loved ones!

Almond & Cranberry Swirled Chocolate Bark
This festive bark is made with swirls of belgian dark and white chocolate, filled with almond butter and topped with almonds and cranberries. This simple 5 ingredient treat will certainly please the crowds!
Serves:
about 20-25 pieces
Ingredients
6 cups Belgian dark chocolate
4 cups white chocolate
3 tablespoons almond butter
1 cup almonds, roughly chopped
1 cup dried cranberries
Instructions
To temper chocolate, place 4 cups of dark chocolate in a large glass measuring cup and 3 cups of white chocolate in a separate glass measuring cup.
Place both measuring cups over pots of warm water over medium heat.
Mix chocolate regularly until melted. Do not bring the water to a boil since you want the chocolate to melt slowly.
When chocolate is melted, remove from heat.
Add the extra 2 cups of dark chocolate in the melted dark chocolate cup and mix until it is all melted.
Add the extra cup of white chocolate in the melted white chocolate cup and mix until it is all melted.
Mix ½ cup chopped almonds and ½ cup cranberries in dark chocolate.
Mix almond butter in melted white chocolate.
On a parchment-lined baking sheet, drop spoonfuls of white chocolate, about 2-3 inches apart.
Drop spoonfuls of dark chocolate in between and all around the white chocolate circles.
Using a butter knife or chopstick, trace vertical and horizontal lines in the chocolate to create beautiful swirls.
Top chocolate with the rest of the chopped almonds and cranberries.
Cool at room temperature for a few hours.
Break bark into pieces (you can also cut the bark with a knife if you want to get even pieces).
Store in an airtight container at room temperature.