I was so excited when I received a surprise package in the mail last week! You should have seen my face when I opened it and found this cookbook: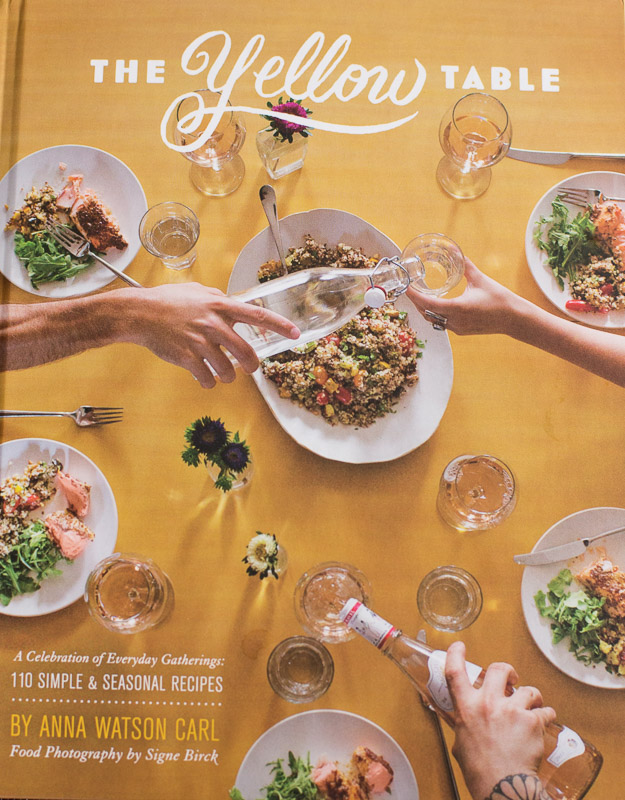 It was so amazing to hold my very own copy in my hands! I have been following The Yellow Table blog for a while and had seen Anna's cookbook dream slowly come to life. I love how she decided to make her dream come true, after reading a sign with the following quote: "You can make a wish or you can make it happen".  When she started a Kickstarter campaign to finance the self-publishing of her cookbook, I had to support her and order a copy! And now, many months later, I get this copy in the mail. The book is so so so gorgeous and it is so amazing to have followed her creation process over the past year! Anna is a true inspiration to follow our dreams and make them come true! When I opened the book, a lovely hand written note from Anna fell out, she is so incredibly sweet and thoughtful!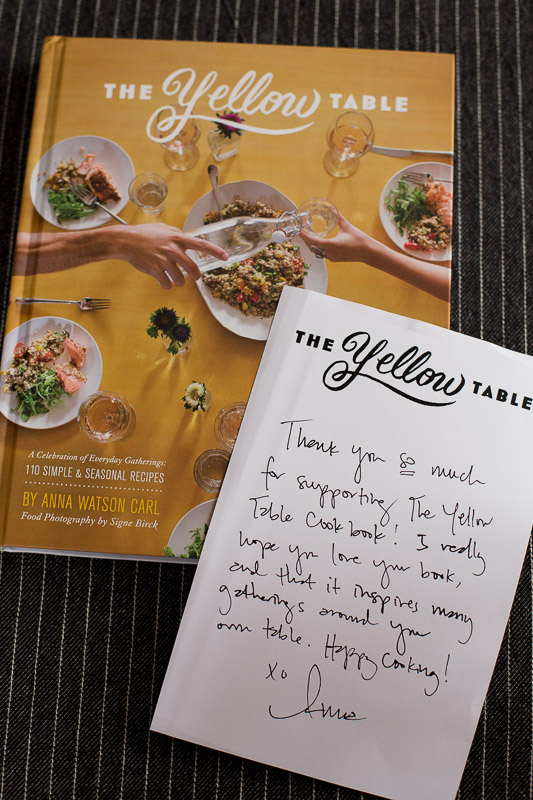 Everything she did to create this book is so amazing. First, she collaborated with food photographer Signe Birck to get gorgeous photographs of each recipe. She also borrowed beautiful props, linens and rustic wooden floor samples from local stores, which is such an ingenious way to have awesome sets and backgrounds for your food photographs at a low cost! You can read more about her cookbook writing process in her Cookbook Diaries, where she documented the behind-the-scene of creating a cookbook during 100 days. Without waiting any longer, here is my review of this amazing book. I also tested 3 recipes and am sharing the results below.
The Yellow Table Cookbook Review
1. Overall Impression
The lovely Yellow Table Cookbook has a gorgeous hard cover that makes this book perfect for your coffee table. The layout of this book is gorgeous, with a full page picture for each recipe. This is the perfect cookbook to inspire you to host delicious meal gatherings. The last chapter of the book offers hosting tips and menus to help with planning when you are receiving guests for a meal. All the recipes included in the book are fairly simple, with super clear instructions and incredibly appetizing photos. It is such a joy to turn each page of this book, it definitely makes me hungry!
2. Book Layout
The book is broken down into 11 chapters, starting with the story of the yellow table and how this cookbook came to be. Then, there is a short but really interesting chapter about wine pairings, written by sommelier Jean-Luc Le Dû.  The following chapter provices basic guidelines about how to use the book and Anna's food philosophy. Then, there are 7 chapters of recipes and finally, the last chapter of the book brings everything together with tasty menu ideas. I love that there are a lot of gluten-free and vegan recipes in this book, even though it is not entirely dedicated to these types of food.
Here is the list of the 11 chapters included in the book:
introduction (story of yellow table);
wine pairing 101;
how to use this book
sunrise
snacks
soups & stews
salads & sides
sandwiches & such
simple suppers
sweets
gatherings
3. Recipe Testing
My cookbook review would not be complete without the results of my recipe testing! As soon as I opened this book, I flagged too many recipe that just looked so appealing and that I wanted to try right away! The morning after receiving the book in the mail, I started cooking right away! Here are the three recipes I tested so far.
I made my first recipe for breakfast and just had to try those gluten-free blue cornmeal waffles. These waffles turned our amazing, with a crisp texture and nutty flavour, just as Anna described it in her book! I made them as outlined in the book and found the instruction so well laid out and easy to follow. I served those waffles for breakfast with a quick frozen fruit jam that I prepared while the waffles were cooking.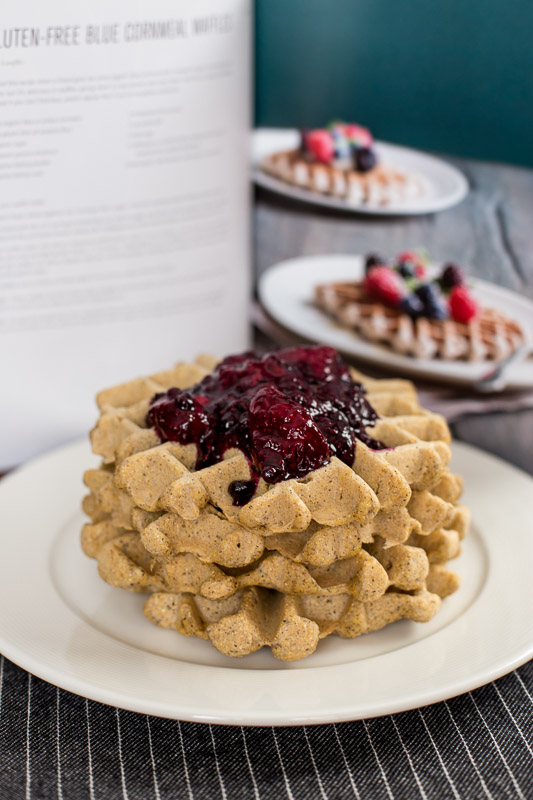 The second recipe I tested were these Spicy Maple-Rosemary Cocktail Nuts. Since the holidays are approaching quickly, I wanted to try this recipe; I thought these would make the perfect snack to have on hand when guests arrive. I was not disappointed, this is such an amazing recipe. The nuts are super crunchy, sweet, savoury and spicy. They are truly addictive and it is definitely a recipe that I will make again!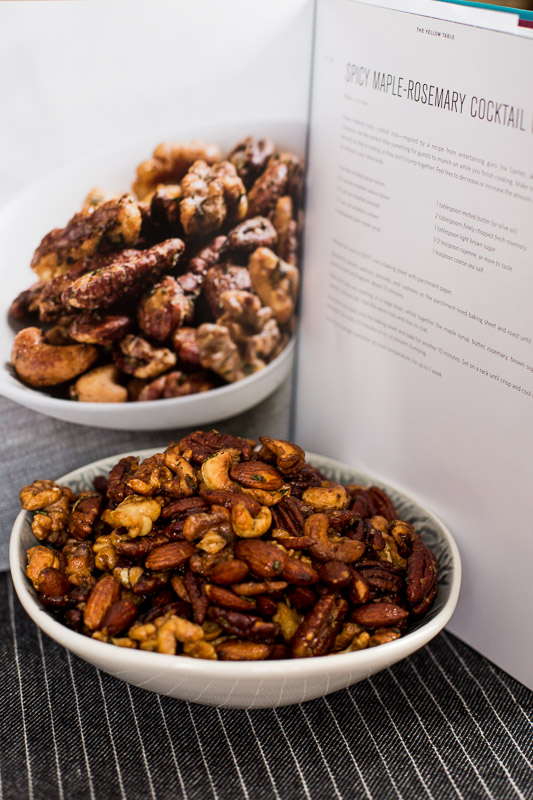 Finally, the third recipe I tried was a Tomato-Chickpea Curry. This vegan dish was really tasty and satisfying, although I added a bit more spices than what was required in the recipe, because I love it spicy! This dish was perfect to bring for lunches during the week, I brought some 3 days this week and it was as good when re-heated than when fresh. The flavours are delicious.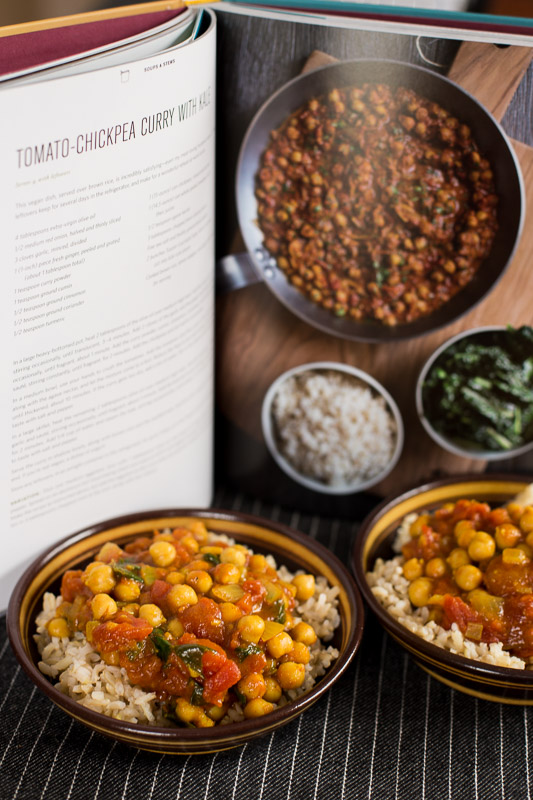 Other recipes that are high up on my to do list are the Lemon-Parsley Tahini Dip, Tuscan White Bean Soup with Swiss Chard, Mediterranean Quinoa Salad with Roasted Summer Vegetables, Gluten-Free Almond Cake with Lavender Honey and Flourless Chocolate Cake with Raspberry Coulis… just to name just a few!

4. Overall Rating
I can see that Anna put a lot of passion into this cookbook and it is truly exceptional. I love the beautiful layout, gorgeous pictures, simple recipes and lovely menu planning ideas. It is just such a well rounded cookbook that is perfect to inspire every home cook to host their friends and families for a delicious meal. This cookbook is also such an inspiration, as it is the tangible proof that Anna realized her dream, and it makes me believe that one day, I will also be able to realize mine! Thank you Anna for being such an inspiration!