Are you passionate about food? Do you love to create beautiful and delicious recipes? Do you love writing and sharing ideas with people? Do you read various food blogs and cookbooks? Do you love to experiment in the kitchen? And do you constantly look at food photos on Pinterest and Foodgawker?
If you said yes to most or all of these questions, perhaps you should start your very own food blog!
Having your food blog is an awesome way to be part of a great online community, to connect with other food lovers and share your passion and recipes with readers from all over the world. It is such a rewarding experience and can truly make your skills and passion for food grow even more.
Starting a food blog is super easy. In only 5 easy steps, you can start and design your very own beautiful blog. In this post, I decided to share with you some tips to start your blog based on my experience in starting my website. Here are the steps to follow to start your own gorgeous food blog: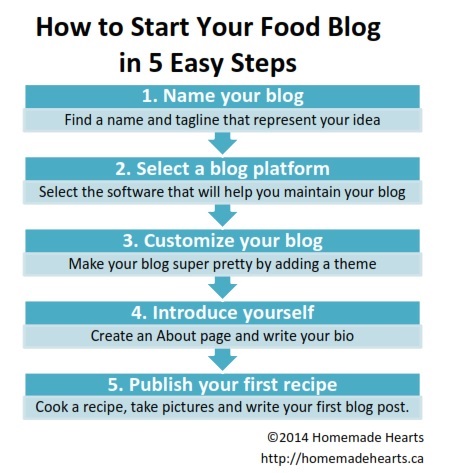 Without waiting any longer, you can take the next 10 minutes to read through this post and make your food blog dream a reality!
1. Name your Blog
Name and Tagline: Find a name that represents you and the general theme of your blog. Your name should be simple and catchy. Choose it wisely because it will define your identity. Along with your blog name, find a tagline to further define the type of recipes that people will find on your blog.
For example, I named my blog Homemade Hearts because I want to share recipes that I create from scratch, and with love. My tagline helps adding a specialization to my type of cooking: Gluten-Free recipes for a Homemade Life. With this tagline, I let my readers know that on my website, all the recipes will be gluten-free and from scratch.
Other examples of blog names and taglines are:
Chocolate Covered Katie: The Healthy Dessert Blog
Pinch of Yum: A Food Blog with Simple and Tasty Recipes
Minimalist Baker: Simple Food, Simply Delicious
Oh She Glows: Vegan Recipes by Angela Liddon
So you get the general idea here: all of these super popular blogs have simple titles and clear taglines that describe the information they share on their website.
The key to finding your name is to brainstorm as many ideas as you can, get feedback from friends and family, and select the name that most represents you and your vision for your blog. Once you have selected your blog name, you need to secure your domain name and web hosting server.
Domain Name: Your domain name is your website address. Try to keep it simple and in line with your blog name. Mine is homemadehearts.ca. In my case, I selected .ca because I live in Canada, but .com is the most common. You can go on Bluehost to verify if the domain you want is available. If it is available, you can purchase your domain for a small annual fee, or get your domain for free if you decide to host your website with Bluehost.
Web Hosting: Once you have your domain name, you need to select a secure web hosting service. I use Bluehost and am very pleased with their service, which is very affordable, reliable and easy to use. Also, as I mentioned above, you can have a free domain name if you purchase web hosting with them. You can get an annual hosting plan for a small monthly fee.
When you purchase your web hosting package, I also recommend to get the Domain Privacy Protection. This only costs a few dollars per year and it will keep your personal information hidden from the public. I think it is totally worth it!
2. Select a blog platform
Now that you have a name, domain and web hosting service, you need to select a blog platform. A blog platform is a software that is designed to facilitate your blogging experience.
If you are like me and don't know anything at all about html and website coding, you can select a platform that will do it all for you. I use WordPress.org, which I love. It is easy to use and most of all, it is free! You can customize your site with any theme that you want and incorporate lots of plugins to create an interactive website.
The other bonus with wordpress is that you can set it up directly through your Bluehost page. You simply login your Bluehost profile and under the "Website" category, you will see "Install WordPress". All you need to do is to click on the WordPress logo and follow the instructions to install WordPress. It is super simple and should not take you more than 5-10 minutes to install a Wordpress blog platform that is linked to your domain!
3. Customize your blog and make it pretty
Once you have installed WordPress, it is time to build your site and make it super pretty! To make your site pretty, you can use some of the free themes that WordPress offers.  This is a great place to start and figure out the whole blogging thing, and I originally started my blog using one of the free themes.
If you find that your free theme gets limiting, you can purchase a premium theme that will allow you to customize more aspects of your website. Right now, I use a theme that was developed by StudioPress and uses the Genesis Framework. The theme I selected is the Foodie Theme and I love it so much. I love the layout which is perfect to feature your photos, develop recipe index and just have a super clean and professional looking food blog. You can view this theme and lots of other great Themes on StudioPress website.
4. Introduce yourself 
Now that you have your site up and running, you can start creating content. The first thing you should do is to create an About page and write about yourself and your blog. Readers are often curious about who is writing all the delicious recipes on your site so it is important to have a page about yourself. This page is not only an opportunity to share your personal story and motivation behind your blog, but you can also clearly state the vision for your blog.
Here are a few questions that you can answer in your About page:
Who are you?

To personalize your blog, include your name, a picture about yourself and a few fun facts.

What is your food blog about? How is your blog unique?

Describe the purpose of your blog and what type of articles/recipes readers can expect to find on your website.
Describe how your blog is unique and how it reflects your personality.

How should people use your blog, where should they start reading?

Help reader navigate on your website by directing them to certain articles at the end of your About page. For example, you can include a link to your recipe index and contact page.
Include other relevant links, such as links to your social media pages.
If you cannot answer all these questions the day that you create your About page, don't worry. You can start by including a bit of detail about you and the purpose of your food blog, and then you can add more information with time. I recommend to keep your About page current by reviewing it on a regular basis. Here is my About page, I try to update mine every other month to ensure it is always current.
5. Publish your first recipe
Now that you have done all the hard work, you can begin the fun part!!! Go to your kitchen, create some amazing recipes, take photographs and publish your posts. If you don't know where to start, where to get your ideas or how to develop your own unique recipes, you can read my post about recipe development here. This will hopefully give you inspiration on how to create your own unique recipes in 6 easy steps.
If you want your blog to take off, you should really decide on a regular posting schedule and stick to it. I post 2 recipes every week (usually on Tuesdays and Thursdays), and this helps my readership know when there will be new content on my site. Posting on a regular basis really helps maintaining an active readership.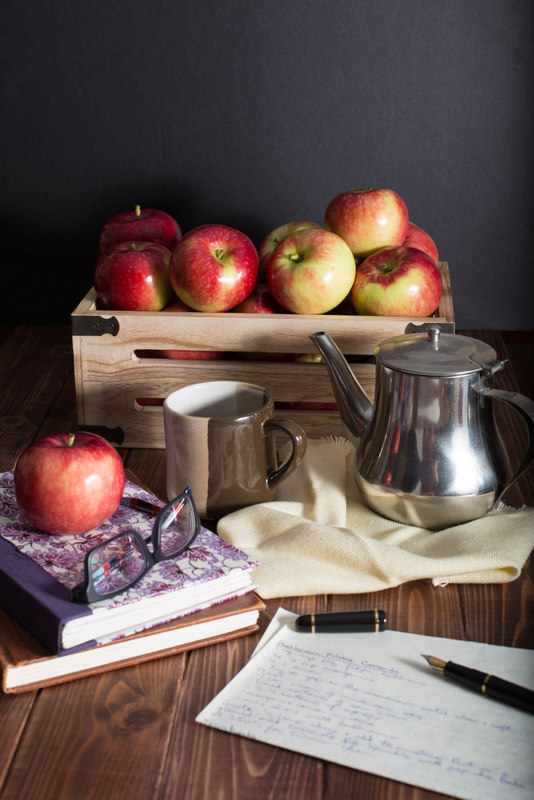 Congratulations – you now have a beautiful website! Now, the real work begins. You need to post new content on a regular basis. Get creative with your recipes and posts to always have some fresh and original content for your readers.
If you want to read more about food blogging, here are a few resources that I found (and still find) super helpful:
Food Blogging For Dummies, by Kelly Senyei
Will Write For Food, The Complete Guide to Writing Cookbooks, Blogs, Reviews, Memoir and more, by Dianne Jacob
Hope you enjoy starting your blogging experience! Do not hesitate to ask any questions you may have or share your website with me to connect!