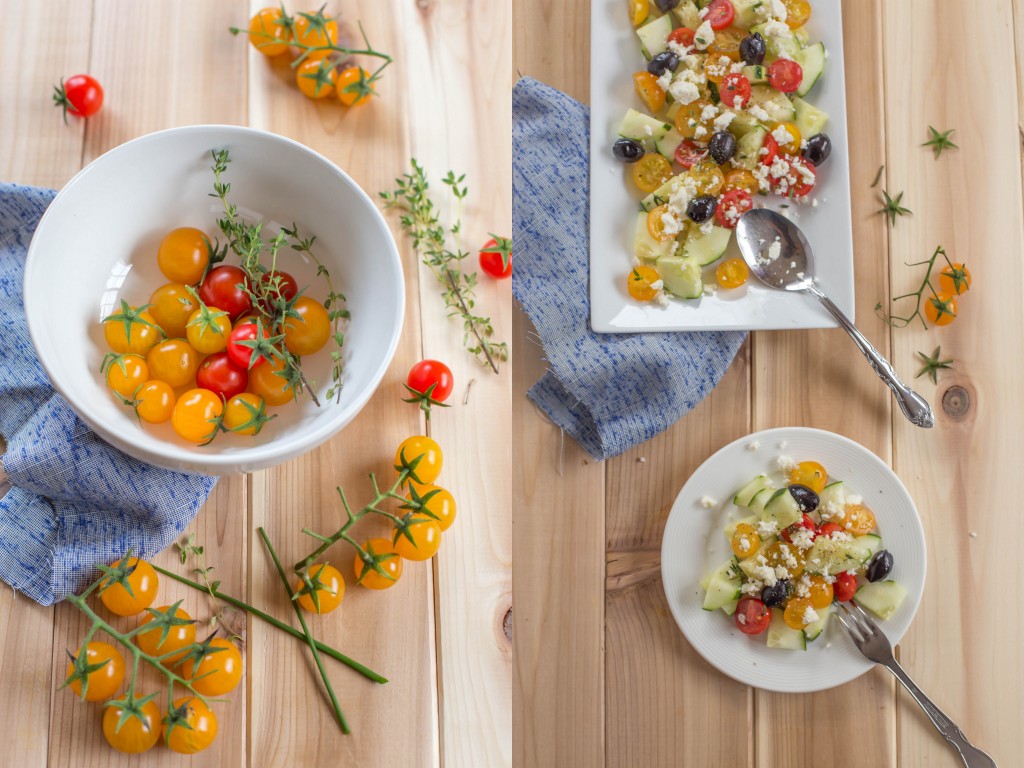 My awesome neighbour truly has a green thumb! She has a large greenhouse in her backyard and grows all kinds of organic and heirloom crops from all around the world. Yesterday, she brought me those bright and sweet cherry tomatoes and I just had to make something simple and delicious with those!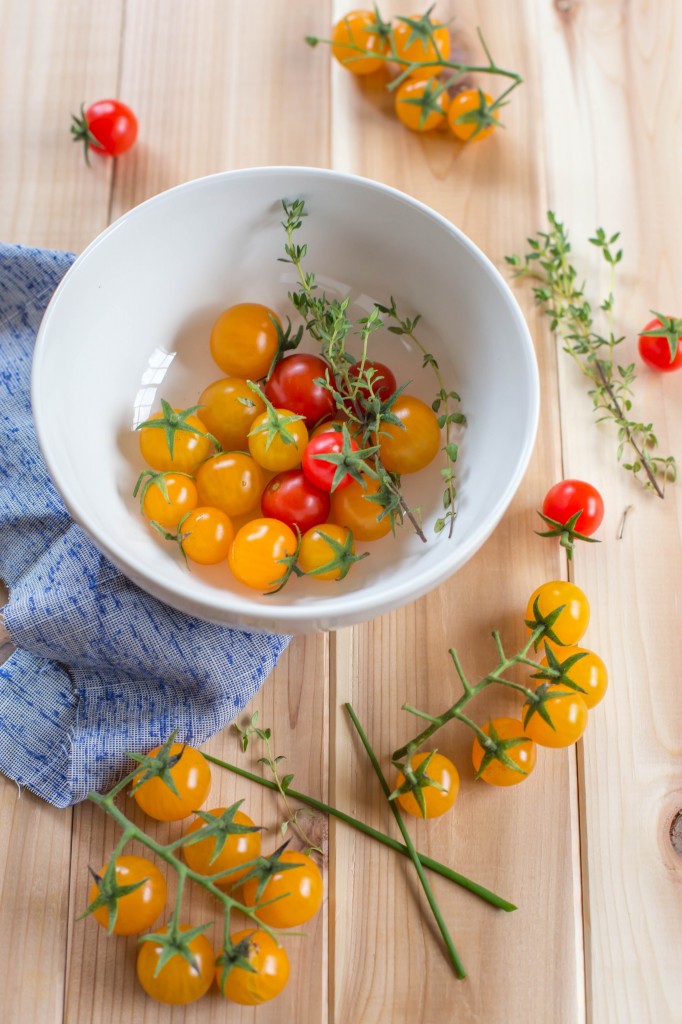 Seriously, looks at those tiny tomatoes that have such a bright pop of colour! I looked in my fridge and pantry and I had a few ingredients on hand to make a quick greek style salad. It is really simple and such a great salad to serve as an appetizer or side dish for a dinner party.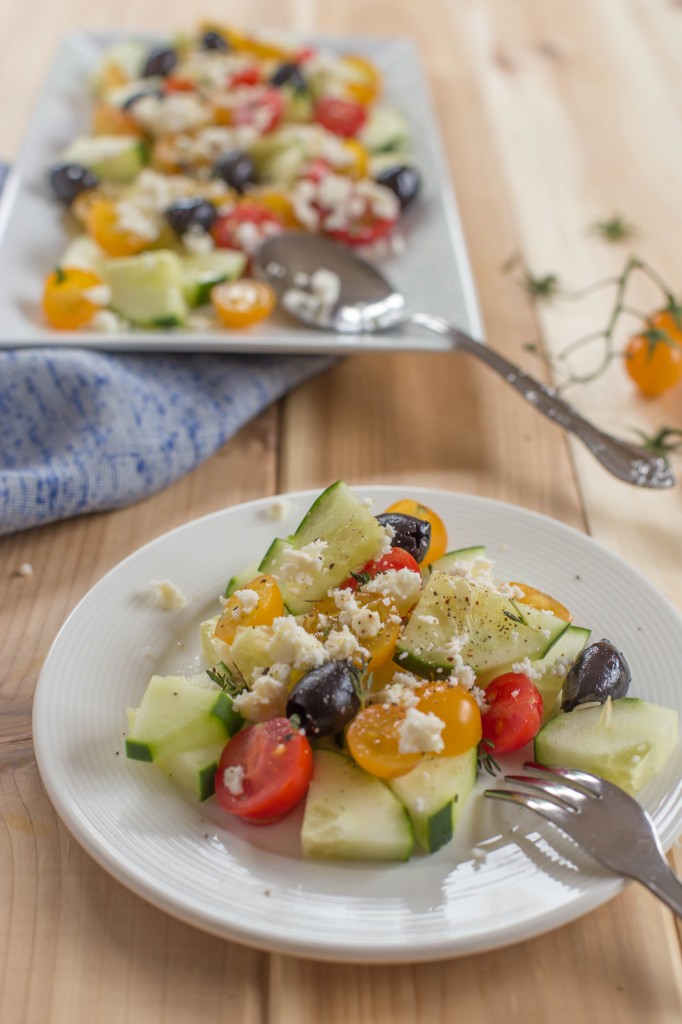 You simply combine colourful cherry tomatoes with cucumber and black or kalamata olives. Then you sprinkle with feta cheese, a few herbs, good quality olive oil and balsamic vinegar and you are in business! Enjoy!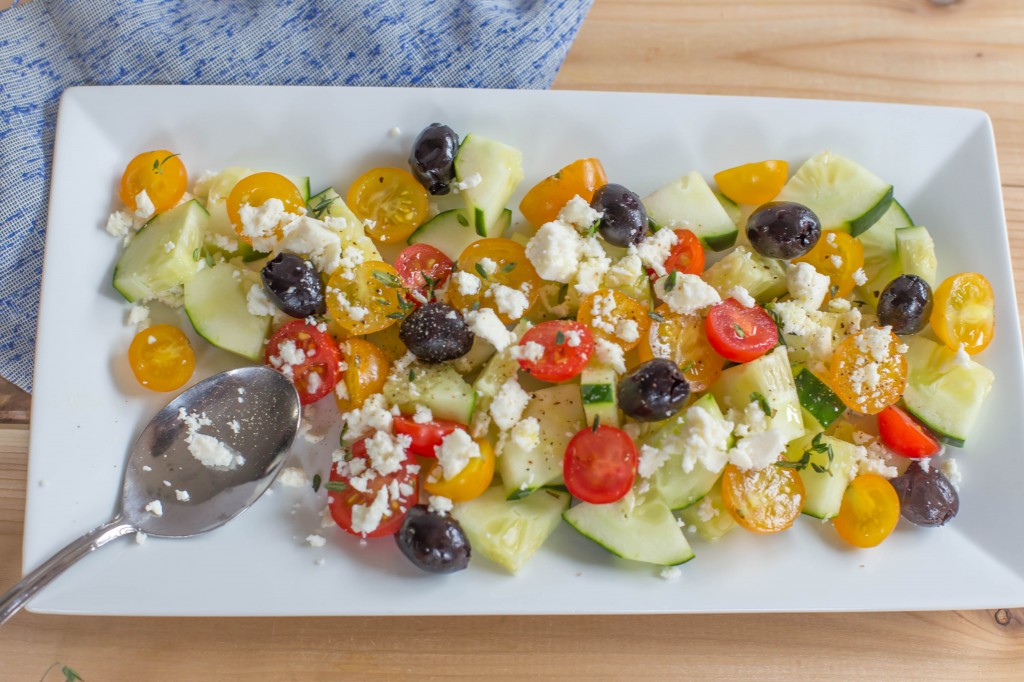 Easy Greek Salad with Cherry Tomatoes
This simple greek-style salad is prepared with just a few fresh ingredients that will give you a delicious meal or side dish.
Ingredients
1 pint cherry tomatoes (equivalent to 25-30 tomatoes)
1 cucumber
½ cup organic black pitted olives
½ cup crumbled feta cheese
2 tablespoons extra virgin olive oil
1 tablespoon balsamic vinegar
½ teaspoon fresh thyme leaves
½ teaspoon freshly ground black pepper
Instructions
Cut cherry tomatoes in halves.
Peel and dice cucumber.
In a salad bowl, mix tomatoes, cucumber, olives, feta cheese with olive oil, balsamic vinegar, thyme and black pepper.
Serve immediately.
Notes
If you want to prepare this salad ahead of time, just combine tomatoes, cucumbers, olives and feta cheese. You can set aside in the refrigerator. When it is ready to serve, add olive oil, balsamic vinegar, thyme and black pepper.