Lasagna is one of my favourite meal. Eating a tasty homemade lasagna is like cuddling up with a large woolen blanket after a day of hiking in the snow – it is just so warming and comforting. I know, it's still summer, but lasagna is just that type of meal that is delicious all year round!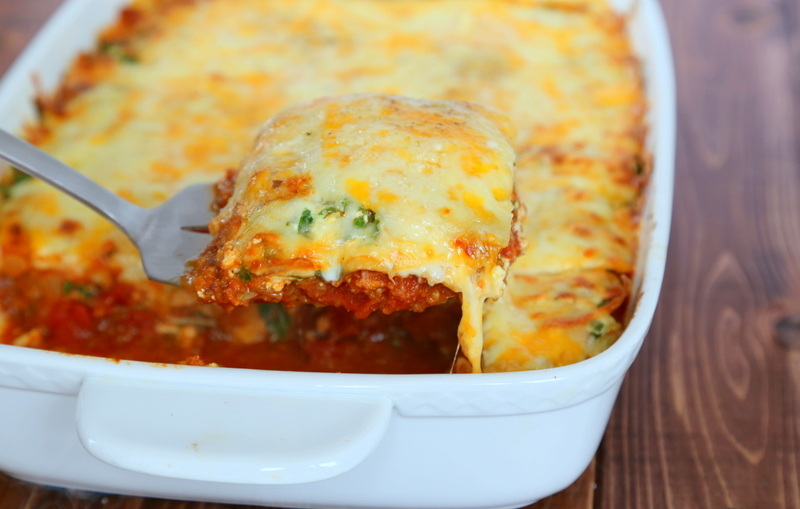 Since I was diagnosed with gluten intolerance, I had been avoiding lasagna. One day, after developing my recipe for homemade pasta , I thought I would try this same pasta recipe as lasagna noodles and the result is incredible! I was finally able to reconnect with my long lost lasagna meals. This homemade lasagna is made from scratch, using the freshest ingredients.
This lasagna is layered with a sauce filled with fresh vegetables, which has simmered for hours to let the flavours explode in your mouth. The sauce is placed between layers of homemade gluten-free noodles, which are topped with the freshest homemade ricotta cheese.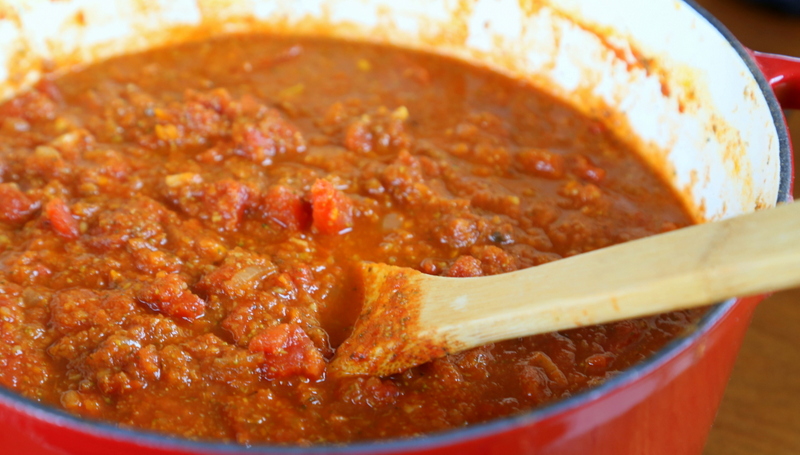 Did you know that you could make fresh ricotta cheese with only 2 simple ingredients: milk and lemon juice. What is even more amazing is that the process only takes a few minutes!? I truly encourage you to give it a try, I promise you, you will not go back to store-bought ricotta. If you want to know how to prepare this super creamy fresh cheese, just read the recipe below. It is so simple you will wonder why you have never done it before!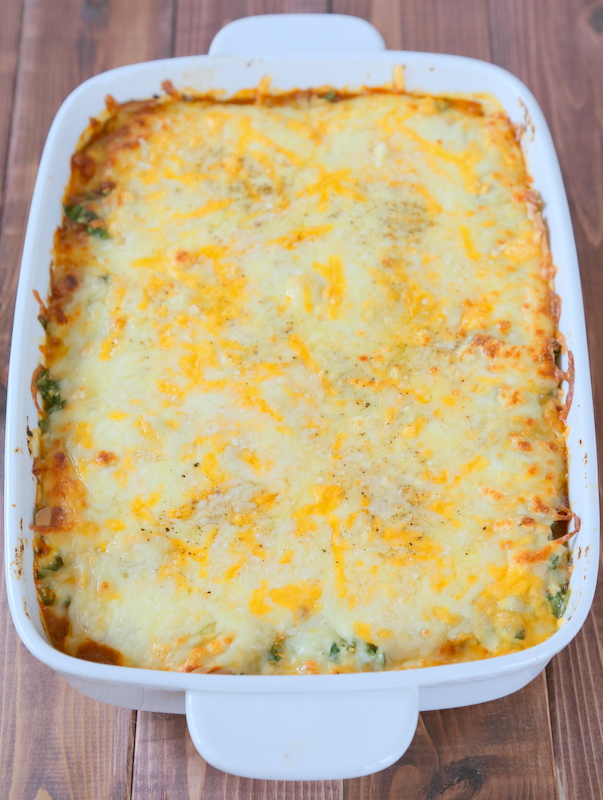 To finish off this amazing lasagna, all the great layers of simmered vegetable sauce, homemade gluten-free pasta and fresh ricotta are topped with gooing cheese that just keeps everything together and makes it taste so amazing!
Have you ever made your lasagna from scratch? You should totally try to make it, it is true that it is a long process, but it is so rewarding! If you do not have too much time, you can prepare your vegetable sauce a few days ahead of time, or weeks if you freeze your sauce! You can also make it with store-bought noodles… even though it is not as tasty, your lasagna will still be delicious since you will have that simmered sauce, fresh ricotta and delicious cheese! Hope you enjoy your lasagna!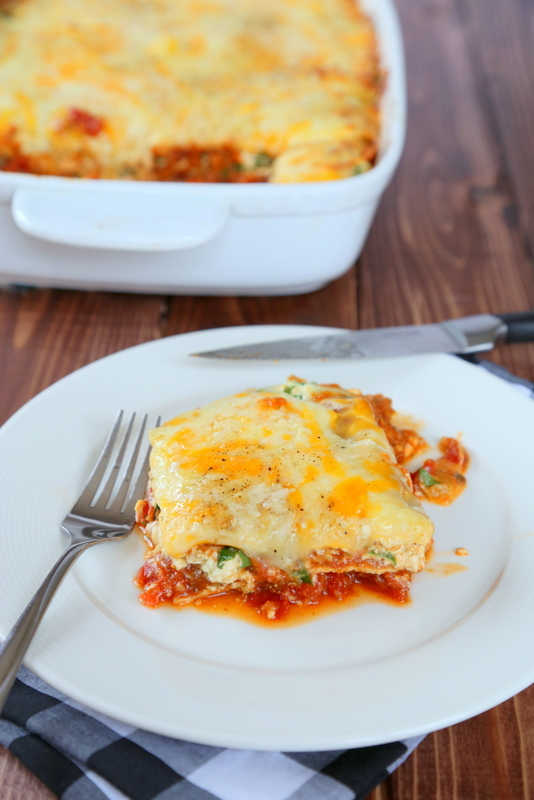 Homemade Vegetable Lasagna with Fresh Gluten-Free Noodles
This homemade lasagna is vegetarian and gluten-free. It is made with layers of a simmered vegetable sauce and fresh ricotta cheese, and topped with more cheese for a delicious and indulgent meal.
Ingredients
Vegetable Sauce
1 tablespoon grapeseed oil
1 onion, diced
3 carrots
4-5 mushrooms
1 head broccoli
2 cloves garlic, minced
2 cans (796 mL) organic diced tomatoes
1 can (398 mL) organic tomato sauce
1 can (156 mL) organic tomato paste
1 tablespoon honey
1 tablespoon herbes de provence (or dried oregano)
1 teaspoon sea salt
½ teaspoon pepper
Lasagna Noodles
Ricotta Cheese Layer
2 liters 2% milk
1 lemon, juiced
2 cups baby spinach, roughly chopped
Cheese
3 cups cheese (old cheddar and mozzarella), grated
½ cup parmesan cheese, grated
Instructions
Vegetable Sauce
In a large pot, fry the onions in grapeseed oil over medium heat, until the onions are soft.
Place the carrots, mushrooms and broccoli in food processor and chop them in small pieces using the S blade.
Add the vegetables, garlic and cans of tomatoes in the pot with the onions. Mix well.
Incorporate honey, herbes de provence, salt and pepper and mix thoroughly. Bring to a boil and then lower the heat.
Simmer on low heat with the lid on the pot for 3-4 hours.
Lasagna Noodles
Prepare your fresh lasagna noodles according to the instructions from this recipe.
Ricotta Cheese Layer
To make your fresh ricotta cheese, you first need to line a strainer with cheese cloth. Set aside.
In a medium saucepan, bring the milk to a boil over medium-high heat. Stir the milk frequently to avoid burning at the bottom of pot.
Once it is boiling, remove the milk from heat and let cool for 4-5 minutes.
Slowly add the lemon juice and stir thoroughly. The lemon juice will cause cheese curds to coagulate and you will see some white curds forming.
Let the mixture sit until it is thicker, it will take approximately 10-15 minutes.
Pour the curds into the strainer to drain the liquid from the ricotta.
For a creamy ricotta cheese to use in this lasagna, you only need to drain the cheese for 5 minutes.
Spoon the ricotta into a bowl and mix in the baby spinach.
To Assemble the Lasagna
Preheat the oven at 375 degrees F.
In a 9x13 baking dish, spread about 3 cups vegetable sauce.
Arrange a layer of gluten-free pasta to cover the sauce.
Top with ¼ cup grated cheese.
Spread 3 cups vegetable sauce.
Arrange a layer of gluten-free pasta to cover the sauce.
Mix the ricotta mixture with approximately ½-1 cup vegetable sauce.
Arrange a layer of gluten-free pasta to cover the ricotta.
Top with the rest of the grated cheese and parmesan.
Bake the lasagna in preheated oven for 30 minutes.