The other day, I was meandering down the cookbook isle at the bookstore when I was drawn to a gorgeous and truly unique book. The Forest Feast's cover incorporates three of my favourite things in this world: food, elements of nature and art. Just published in 2014, Erin Gleeson, photographer and author of this amazing blog, shares simple vegetarian recipes from her home in the magnificent redwood forest in California. As I opened the book to flip through a few pages, I was immediately captivated by the beauty of each page. I was just not able to put this book down, it had to come home with me!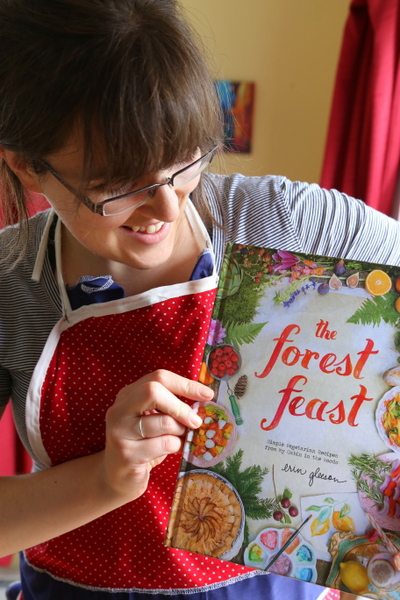 Below are my thoughts on this beautiful and artistic recipe book. I also tested 3 recipes and am sharing the results below.
The Forest Feast Cookbook Review
1. Overall Impression
The Forest Feast is a unique piece of art that you will want to display on your coffee table. From the colourful watercolour food art to the handwritten recipes and gorgeous photographs, every single page is just so inspiring. The recipes are really simple and beautifully displayed, you just want to try them all! The ingredients used in the book are also easy to find. This is the perfect book to get ideas for entertaining people or simply for making a quick and colourful meal. The recipes are so simple yet so creative and they are great to help you plan your menu for a dinner party or picnic. I am so impressed by the amount of work and creativity that Erin put into this book, it is a true gem.
2. Book Layout
The book is broken down into 8 chapters, starting with an introduction which describes Erin's story and some useful tips about the book. The introduction is short and sweet and quickly lead us into the recipes.
There are 5 recipe chapters in this book:
Appetizers;
Cocktails;
Salads;
Vegetable Dishes; and
Sweets.
Each chapter begins with a short two page overview of each recipe included in the section, with a brief description of each dish. Then we go into the creative space where the recipes are tastefully presented. Each recipe covers a two page spread. The left page contains the recipe, which is made of a photograph in the background where Erin used watercolour, handwriting and typewriter to write each recipe in a simple and creative way. The right page shows a picture of the finished dish.
Each recipe is styled in a very earthy, natural and simple manner. Erin photographs many of her recipes in her backyard, which consist of a redwood forest in California. The pictures not only make you hungry but also make you dream about beautiful lush forests! You can even get a glimpse of Erin's life in the various lifestyle pictures included throughout the book.
I am amazed at Erin's immense talent in photography and food styling. This book is an inspiration.
3. Recipe Testing
I prepared 3 recipes from this cookbook. Overall, the instructions are fairly easy to follow. The only downside is that there is no separate ingredient list. The ingredients are listed throughout the instruction so you need to check the recipe a few times before cooking to ensure you have everything you need. However, each recipe is so short that it if fairly simple to do. 
First, I made the apricot bites for an appetizer that I wanted to bring at a dinner. These are so simple to make, yet so original! The surprising combination of flavours was just perfect and they were great to take on the road!
The second recipe I tested was another easy appetizer that I served with the apricots. I made the gorgonzola grapes, except that I used the same goat cheese that I had for the apricots above. The recipe worked wonderfully! This was another super quick, simple yet very unique recipe that was packed with flavour. These crispy grapes were a hit at the dinner party!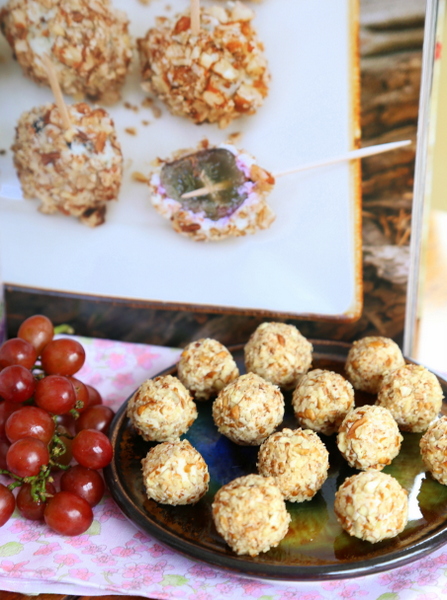 Finally, the third recipe I made from this book was the Kale Caesar with Polenta Croutons. The take on ceasar salad is different and perfect for a gluten-free version of this traditional salad. The greek yogurt dressing was delicious, but I am not sold on the texture of the flat-leaf kale used instead of romaine lettuce. The flavours in the salad was delicious, but the kale stayed too rubbery for my taste. I would definitely try this recipe again, but I would substitute the kale for the more traditional romaine lettuce or spinach… I guess I might be more of a traditional caesar type of person! But believe me, it was still very tasty.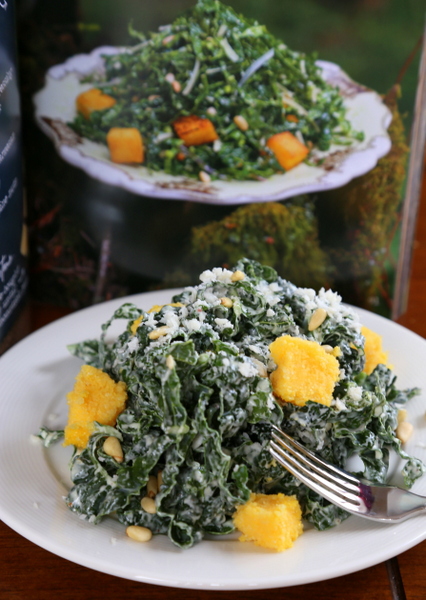 Without a doubt, The Forest Feast will be on my coffee table for a long time. It is just so inspiring to flip through each page. Every visitor who saw this book on my coffee table was just so impressed by its creativity and beauty. The concept is unique and the recipes are simple. You can prepare the recipes with just a few ingredients. Most of them are fresh summer recipes that can be made on a busy evening when you need to entertain a crowd. I can't wait to make more of Erin's simple vegetarian recipes from her cabin in the woods.
Note: This post is not sponsored. The opinions expressed in this post are my own.