I have always had an interest for photography, particularly food photography, but never really took the time to learn all the ins and out of a dSLR. After chatting with my wedding photographer about her experience and training, she mentioned that she took the distance course at the New York Institute of Photography and that she really enjoyed it.
I have a full time job on top of this blog and lots of volunteering and social activities. I had to really think about whether or not I would have time to dedicate to a professional photography course because when I start something, I need to finish it. After doing a bit of research and really thinking things through, I decided that I really wanted to master my camera so I jumped in and registered for the Complete Course in Professional Photography.
I registered on April 17, and in less than 1 month, I was able to complete Unit 1. In case you are curious, there are the 6 units in the course:
You and your equipment
Capturing the image
Harnessing the light
Photographing people
Broadening your subject range
Professional pathways
Each unit is further broken down into various lessons, in which you have a combination of text to read, videos to watch, and audio recordings. I really enjoy the way each lesson is broken down into various mediums because it makes it more interactive and motivating to continue. I love that I can read a few lessons on my ipad before going to bed, or listen to an audio segment while doing dishes. You really have the opportunity to do this course anytime and anywhere! I had originally ordered the printed material, but since I had not received it after completing the first Unit, I called NYIP to cancel the order. They gave me a refund without any questions asked, which was great. Once I got started, I found that the web portal for the course is really well designed and I really did not need to use any printed materials.
I have to say that I have learned so much in Unit 1. Before starting the course, I was not able to use my camera in manual mode. After completing this small part of the course, I now use my camera exclusively in manual mode. In this unit, there was a lot of detail about the range of photography equipment that is out there, and there was also a great focus on how to use everything, including a great section on understanding the aperture, shutter speed and ISO to get sharp images. I still have lots of learning to do, but this is a major accomplishment that I am so pleased with. I feel like I have more control of my camera and can play with aperture and shutter speed to get the effect I want to show on a picture.
Each Unit ends with a multiple choice open book exam and a Photography Project to be submitted electronically. What is great about the Photoraphy Project is that it is reviewed by a professional photographer who provides audio comment on your work. In order to complete Unit 1, I had to submit 3 photos to demonstrate that I can do some of the techniques that we learned in that unit. Here are the photos I submitted:
Photograph 1 – Sense of Speed: For the first submission, I had to show a sense of speed with one of three techniques:
use a slow shutter speed to blur the image with a sharp background;
pan the camera to have a sharp subject and blurred background; or
set a high shutter speed to freeze the action.
My plan for the first photograph was to use a panning motion. I practiced on the streets of St. John's to capture cars against the jelly bean coloured houses, but in the end, I got a nice shot of a bird taking off and decided to use that picture. It was pure luck as I just saw the bird and quickly changed my camera set ups to try and take a close up shot. I barely had time to set my camera and the bird started flying.  To get this shot, I used my 24-105mm lense at a 105mm focal legth, and set my camera in manual mode with f/4, shutter speed of 1/320 and ISO 200. I could have set the shutter speed a bit higher to really freeze the tip of its wings, but since the bird was not going very fast, a 1/320 shutter speed worked fairly well in this case.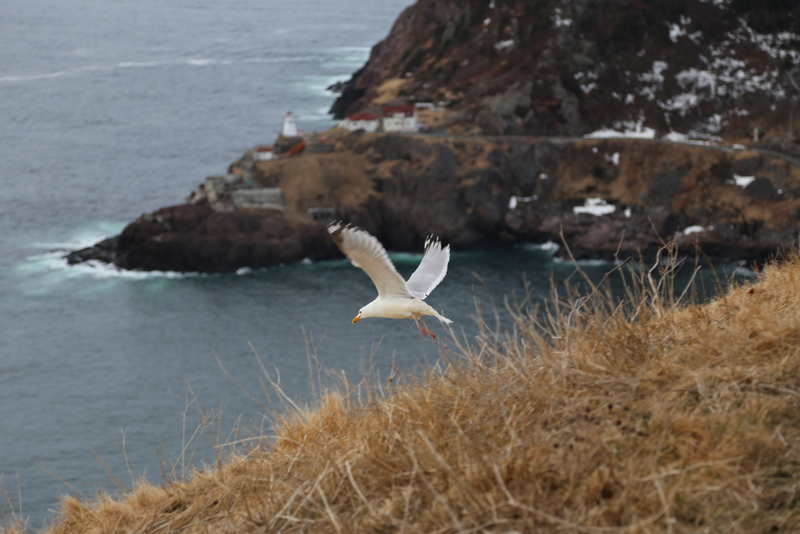 Here is one of the shots where I practiced the panning technique. I did not end up submitting it because I am not quite pleased with the composition, but I will definitely keep practicing this technique, it gives quite interesting results!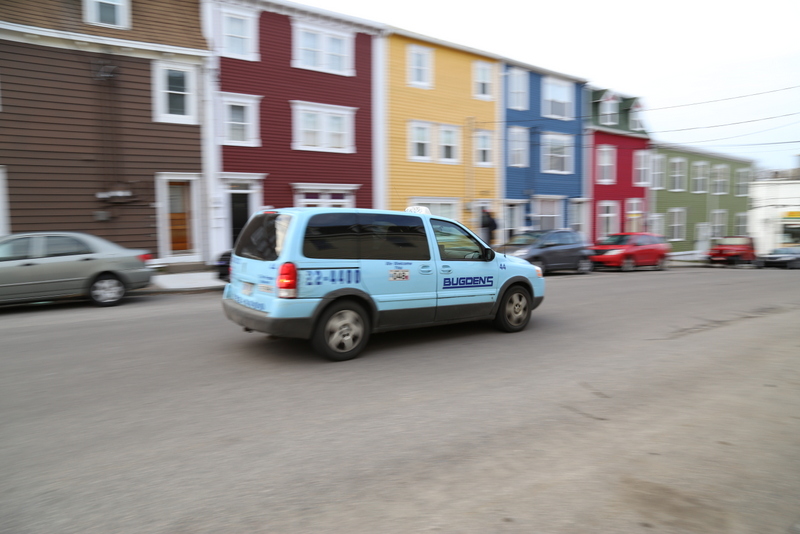 Photograph 2 – Selective Focus: In this picture, I had to use a narrow depth of field to make the subject stand out. I went to a rocky beach in Holyrood to check out some icebergs and saw this old boat on the beach. I took a close up shot of the tip of the boat. I love the texture of the old paint and rusted metal. To get this shot, I used my 24-105mm lense at a 92mm focal legth, and set my camera in manual mode with f/4, shutter speed of 1/320 and ISO 200.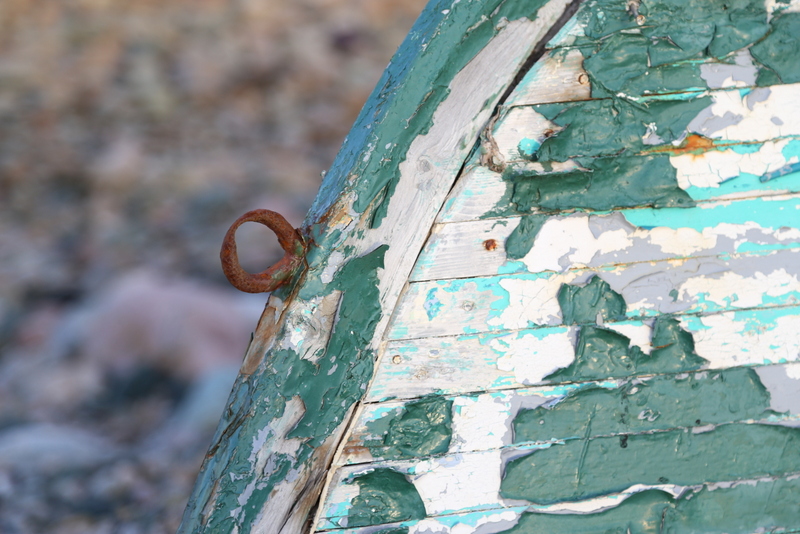 Photograph 3 – Feeling of Distance: In the last shot for Unit 1, I had to demonstrate that I can use the hyperfocal distance principles to get a view that stretches as far as the eye can see, with a great depth of field. In order to do this, we need to set the lens to a small aperture. In this case, I set my camera at f/22, with a shutter speed of 1/125 to try and make everything in focus, all the way to the horizon. For this shot, I wanted to get a bit of a close up of the iceberg so set my focal distance at 85mm. My instructor said the shot was good but suggested to use a wider focal distance to really maximize the effect.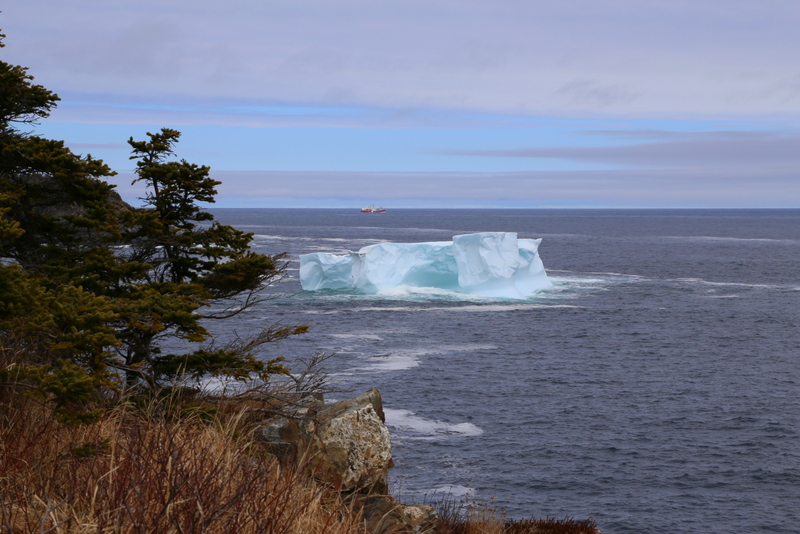 I am loving this course and I really can't wait to dive into the next Unit!!
If you are interested in learning about other sections of this course, here are the other units I completed and reviewed:
Note: This post is not sponsored. The opinions expressed in this post are my own.