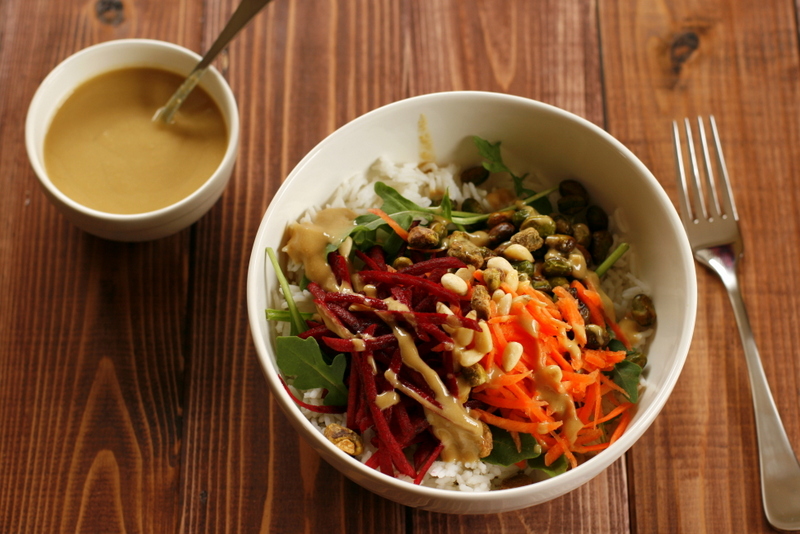 This colourful and crunchy salad is perfect to take as a lunch or for a relaxing dinner after a busy day. This recipe has been adapted from another amazing recipe by the Whitewater Cooks.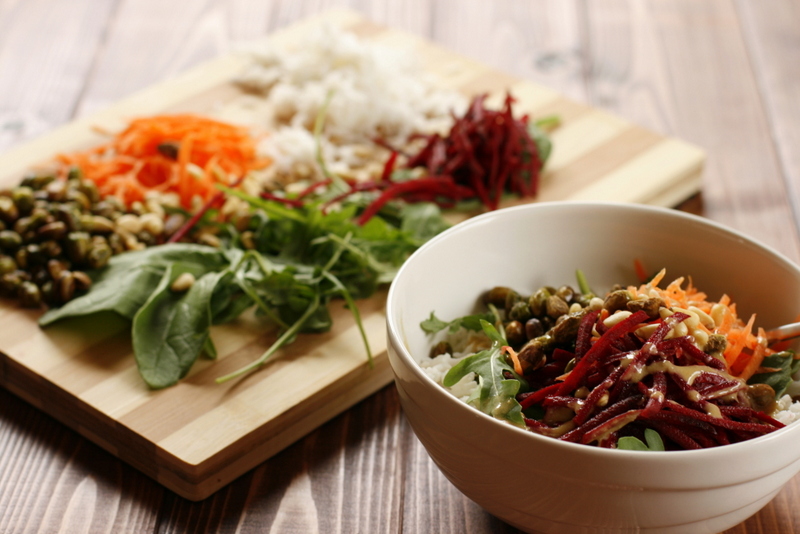 The original bowl is prepared with fried tofu cubes, but I decided to replace them with roasted edamame to make it even simpler. This salad is so quick to prepare. You can cook your rice, grate all your veggies and mix your dressing ahead of time. Then, you keep all the ingredients in separate containers in the fridge. When you are in need of a quick lunch, you will have everything on hand to assemble an large glory bowl in just a minute or two. This recipe will definitely become a staple in our home!

Glory Bowl with Roasted Edamame
This salad is so colourful and full of flavours.It has been adapted from the famous Glory Bowl developed by Whitewater Cooks.
Ingredients
Roasted Edamame
2 cups edamame, frozen
1 tablespoon avocado oil
½ teaspoon sea salt
½ teaspoon black pepper, freshly ground
Glory Bowl Dressing
⅓ cup nutritional yeast
2 tablespoons water
3 tablespoons Braggs Liquid Aminos
3 tablespoons rice vinegar
1 clove garlic
½ inch fresh ginger, peeled
½ cup avocado oil
2 tablespoons sesame seeds
Glory Bowl
2 cups basmati rice, cooked
1 cup carrots, grated (2-3 carrots)
1 cup beets, grated (2-3 beets)
4 tablespoons pistachio, shelled and roasted
4 tablespoons pine nuts
½ cup arugula
½ cup baby spinach
Instructions
Roasted Edamame
Mix frozen edamame beans wtih oil, salt and pepper.
Place on a parchment lined baking sheet.
Bake at 400 degrees F for 30 minutes, mixing halfway.
Glory Bowl Dressing
In a blender, mix together nutritional yeast, water, Braggs Liquid Aminos, rice vinegar, garlic, ginger, avocado oil and sesame seeds until smooth.
Transfer to a glass container.
Glory Bowl
Serve this salad into four bowls by placing ½ cup rice, ½ cup carrots, ½ cup beets, 1 tablespoon pistachio, 1 tablespoon pine nute and ¼ cup roasted edamame in each bowl.
Top each bowl with 3 tablespoons dressing, or more to taste.
Enjoy.