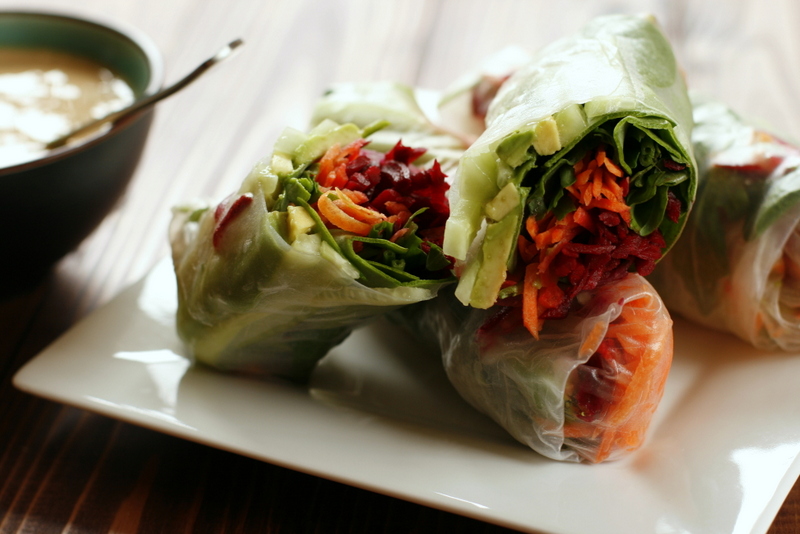 If you are looking for a light and delicious meal, try these colourful and crispy spring rolls. I like to prepare all my veggies ahead of time: I keep a large container with grated veggies in my fridge, and if I want a quick meal or snack, I can simply roll one or two of these in just a few moments.
What I love about these is that not only are they quick to prepare, but you can also prepare a few extra and store them in a plastic wrap in the fridge. You will be able to enjoy these extra rolls for lunch. They are also great to bring on a picnic.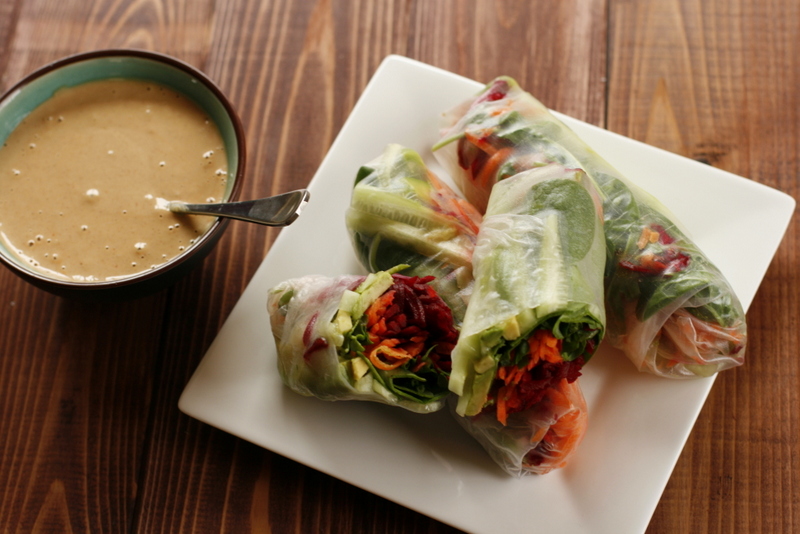 Rainbow Spring Rolls with Spicy Peanut Sauce
These spring rolls are filled with fresh and colourful veggies, and topped with a rich and spicy peanut sauce.
Ingredients
Spring Rolls
6 rice sheets (I used the large square sheet but round would also work)
1 cucumber, cut into julienne
1 carrot, peeled and grated
1 beet, peeled and grated
1 avocado, sliced
1 handful baby spinach
1 handful arugula
Spicy Peanut Sauce
½ cup all natural peanut butter
3 tablespoons Braggs Liquid Aminos
2 tablespoon lime juice
1 inch fresh ginger
½ cup water
¼ teaspoon Sriracha sauce
Instructions
Spring Rolls
Prepare all the vegetables as indicated in the ingredients list.
Soak a rice sheet in water for 10 seconds. (The sheet will still be a bit firm but will continue to soak in the water as you prepare your roll. If you leave it in the water for too long, the rice sheet will break when you roll it)
Place the rice sheet on a cutting board and place about ⅙ of the cucumber, carrot, beet, avocado, spinach and arugula in the center of the sheet.
Fold both ends of the sheet.
Starting from the side, roll the sheet around the veggies. Make sure your roll is fairly tight.
Spicy Peanut Sauce
Blend peanut butter, Braggs sauce, lime juice, ginger, water and Sriracha sauce in a high speed blender.
Serve the spring rolls with a side of sauce to dip.
Notes
You can prepare a few rolls ahead of time, wrap them individually and bring them for a lunch or picnic.