Have you ever heard of Rejuvelac? Rejuvelac is that cloudy drink with a tangy taste that you may have seen it in health food store alongside Kombucha drinks.
Rejuvelac is a fermented liquid that is filled with natural probiotics, lactic acid, vitamins and minerals. It helps with digestion and is a commonly used beverage in the raw diet. It fills your stomach and intestines with beneficial probiotics and enzymes that will boost your digestive system and help your food to break down. You can read more about its properties on Raw Spirit.
Rejuvelac is most commonly made with wheat berries, but to make it gluten-free, I fermented my rejuvelac with sprouted quinoa. It is quite  simple to prepare, you can make it by following these three simple steps:
Soak the quinoa;
Sprout the grains; and
Ferment sprouted quinoa in water.
Once you have a big jar of rejuvelac, you can keep it in your fridge and add 1/4 cup to your smoothies, or use it to make vegan cashew cheeses. I also love to drink it with lemon or lime juice and a splash of maple syrup. It is so energizing!
It takes a bit of time to prepare it, but it will keep in your fridge for a few weeks so it is totally worth it!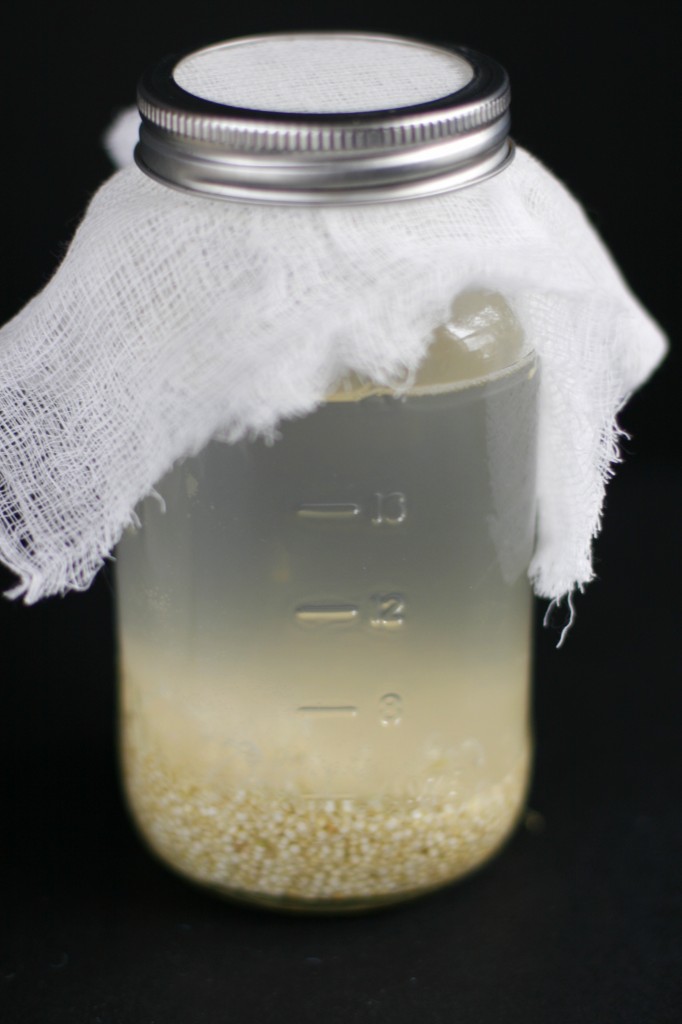 Quinoa Rejuvelac
Rejuvelac is a fermented beverage that is filled with enzymes, probiotics, vitamins and minerals. This beverage helps the digestive system.
Ingredients
1 cup quinoa
6 cups water
Instructions
Sprouting Quinoa:
Soak the quinoa for about 8 hours, or overnight. I recommend soaking the quinoa in a glass jar covered with a cheese cloth that is secured with an elastic band.
Drain the quinoa through a colander and rinse it thoroughly.
Place the quinoa back into the glass jar. Cover it with the cheese cloth and turn the jar on its side, with the back raised to allow any water to drain.
Rinse the quinoa every 6-8 hours. It will take approximately 24 hours for the quinoa to sprout. You know the quinoa is ready when you see the small white tails appearing on the grain.
Culturing Rejuvelac:
Separate the sprouted quinoa in half and place it in 2 clean glass containers.
Pour 3 cups of water into each jar. Cover each jar with clean cheesecloth and secure it with rubber bands.
Put the jars in a warm place in the dark for about 2 days. I put my jars in a cupboard. During the fermentation process, the water will turn cloudy and white, as seen on the picture.
Strain the liquid into a clean jar and discard the quinoa.
Store the rejuvelac in the refrigerator.
Notes
Since rejuvelac is a fermeted beverage, ensure that all your equipment is clean before using it to avoid culturing bad bacteria.

Once the rejuvelac is fermented, you can keep it in the refrigerator for about 2-3 weeks. You can use it in smoothies, vegan cheeses and any other recipes, you simply need to replace the liquid by rejuvelac and you will get amazing properties.
Now you know how to make your own rejuvelac! I recommend to get the process started this weekend because on Monday, I will give you my recipe for an amazing cashew cream cheese made with rejuvelac. This cheese is so creamy and delicious, you won't even believe it is vegan and healthy!!! Enjoy your weekend!