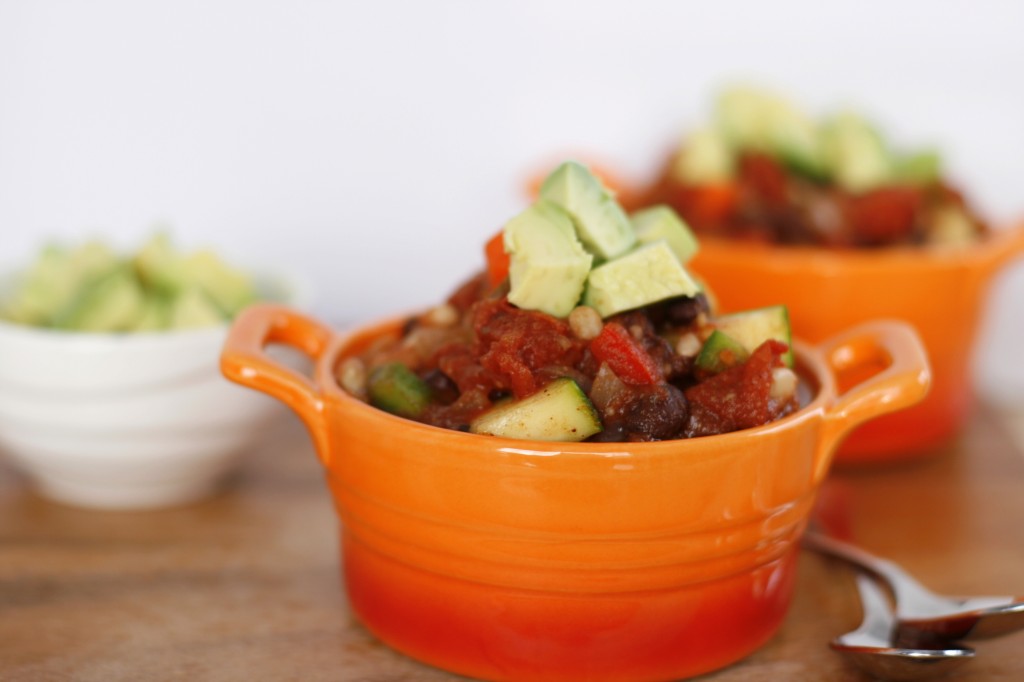 This fragrant chili contains large chunks of vegetables and three different types of beans. The spices I used make it stand out from other chili recipes – I included some cocoa powder to add richness and depth to the meal and cinnamon to add some kick without making the chili too spicy.
You can prepare this meal ahead of time and freeze half of it for a later date. If you have some avocados on hand, I truly recommend serving a few slices on top of the chili, but otherwise, you can also serve it with the more traditional sour cream and cheese.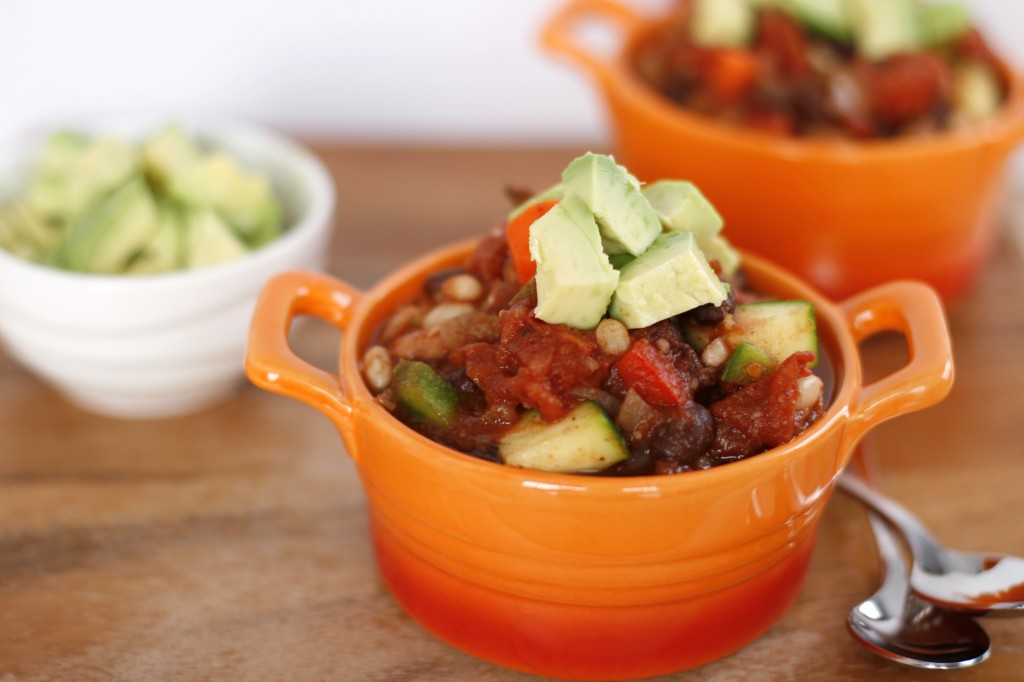 Slow Cooker Vegetarian Chili
This fragrant vegetarian chili is filled with veggies and three different kinds of beans for a hearty meal. It only take 20 minutes to prepare and you will have lots of leftovers to freeze or serve as lunches.
Ingredients
3 onions, finely diced
2 tablespoons grapeseed oil
3 carrots, sliced
2 bell peppers, seeded and chopped into cubes
2 zucchinis, cubed
7-8 mushrooms, sliced
3 cans (796 mL) organic diced tomatoes
1 can (396 mL) navy beans, drained and rinsed
1 can (396 mL) pinto beans, drained and rinsed
1 can (396 mL) black beans, drained and rinsed
2 tablespoons chili powder
1 tablespoon cumin
¼ teaspoon cinnamon
1 teaspoon cocoa powder
2 cloves garlic, finely chopped
1 teaspoon sea salt
Instructions
In a frying pan over medium heat, cook onions for about 10 minutes until soft.
Transfer to the ceramic dish of a 5-6 quart slow cooker.
Add carrots, peppers, zucchinis, mushrooms, tomatoes, navy beans, pinto beans, black beans, chili powder, cumin, cinnamon, cocoa powder, garlic and sea salt.
Mix well.
Cook on high for 4-5 hours.
Garnish chili with avocado slices, if desired.
Notes
This is a large recipe so you can store some of the leftover chili in the freezer.