Did you know that I have a deep love (some could even call it an addiction) to cookbooks? Since I can remember, I have been reading cookbooks all the time – there is always a few cookbooks on my nightstand, on the coffee table, and in my office. I read a few pages almost every morning, evening and whenever I want to sit down for a few minutes to relax. I usually also always carry a cookbook or two with me when I travel. I find cookbooks so interesting and inspiring. I love to read the story of the author, understand the overall theme of the book, read the tasty recipes and be inspired by the colourful photographs. I also love to learn new cooking techniques and am intrigued by different types of food that I may not be used to cooking. I enjoy analyzing cookbooks, noting what I love about them and what makes each book unique.
My dream one day is to write my very own cookbook! In the meantime, while I develop my recipe writing and food photography skills through this blog, I thought I would start a series of posts to share my notes and review some of the recipe books in my library. I have over 100 cookbooks and hope to be able to review some of the staple ones that I always go back to.
I was inspired by the amazing book reviews from Paleolland. When I read her review about the Paleo Chocolate Lover's Cookbook, I was just so excited about the book that I purchased it right after reading her review! So, I thought I would also share my thoughts on some of the cookbooks I love, to hopefully inspire you to read some of the amazing ones out there.
For my first cookbook review, I decided to share my thoughts about a new book that I had been waiting to get for a while and was so excited about: the amazing Oh She Glows Cookbook by Angela Liddon.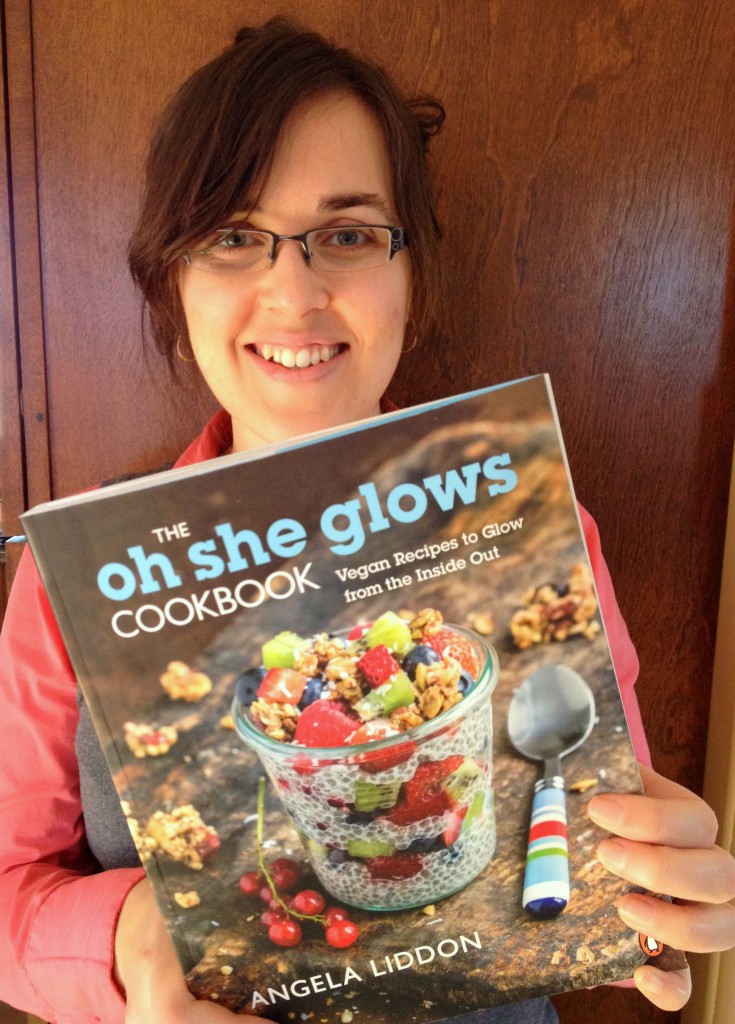 The Oh She Glows Cookbook is the first book from the author of the very famous vegan blog Oh She Glows, which is definitely up there in the food blog world! Angela Liddon shares her love for whole healthy food by creating unique vegan recipes and highlighting their beauty with gorgeous photographs! No wonder she gets millions of visitors each month. Her website is definitely one of my favourite and I read it on a regular basis.
I can tell you that I was so excited when I heard she was working on her first cookbook! I couldn't wait to see her creation and pre-ordered it as soon as it was possible (with the pre-order, I even received an amazing free bundle of 10 beautiful recipes). After a few long months of waiting, I finally received the book and have to say that I absolutely love it! The Oh She Glows Cookbook lived up to my high expectations (and even surpassed them).
So here is my review of this amazing book. I also tested 4 recipes and am sharing the results below.
Oh She Glows Cookbook Review
1. Overall Impression
From looking at the book cover, you can tell that this book is going to be special. The book is simply gorgeous on the outside, and when you open it, it only gets better: the layout of the book is so beautiful, practical and easy to follow.  The book is filled with full page photographs which give you a great idea of what the recipes look like. Angela has a great writing style and her book is very captivating. From her personal story and journey to health to an appetizing description and detailed instructions for each recipe, each page is just so fascinating. I seriously could not put the book down and read through it all in one sitting.
2. Book Layout
The book is broken down into 13 chapters, starting with an overview of a natural foods pantry and staple kitchen tools and equipment. These chapters provide a great insight into the ingredients and tools that are to be used in the recipe book. I love how Angela personalizes the description of these items and includes her personal stories on some of them.
After these sections come the delicious recipes. There are 10 chapters containing recipes, including:
breakfast;
smoothies, juice & tea;
appetizers;
salads;
soup;
entrées;
sides;
power snacks;
desserts; and
homemade staples.
There is a full-page photograph for each recipe included in the book, and they all make me feel hungry. I love how all the accessories and props used in the photographs are colour coordinated and make the book really feel whole and integrated.
If I had to pick my favourite chapters, I would choose the power snacks and homemade staples since all the recipes in these two chapters are so great and useful, and you don't often find these topics in all recipe books.
Finally, Angela included a short chapter on basic cooking charts where she provides guidance on how to cook certain grains. The guidance is presented in a very easy to use table, which is such a great idea when you only need a quick reminder.
3. Recipe Testing
And now here is the real test : I prepared 4 recipes from this cookbook. Overall, the instructions for the recipes were extremely well written and detailed – I did not have to wonder if I should leave the cover on while cooking, or whether I should incorporate all the oil at once, all the steps were there. By simply following the detailed instructions , I was able to get four successful and tasty recipes that looked like the pictures I saw in the book (although my pictures are not as nice, the foods are pretty similar).
First, I made the Classic Glo Bar from the Power Snack chapter. This is a granola bar that Angela used to sell on her website. I feel so honoured that she shared it with her readers! This recipe is amazing! I love the taste and they are super simple and quick to prepare. I made them at 5am one morning before heading to work and had a great snack to keep me going during the day. That weekend, I had some friends visiting and they also really loved them! I even brought some to the SeaBerry Workshop I was giving that weekend with my friend Paula and all the comments were positive!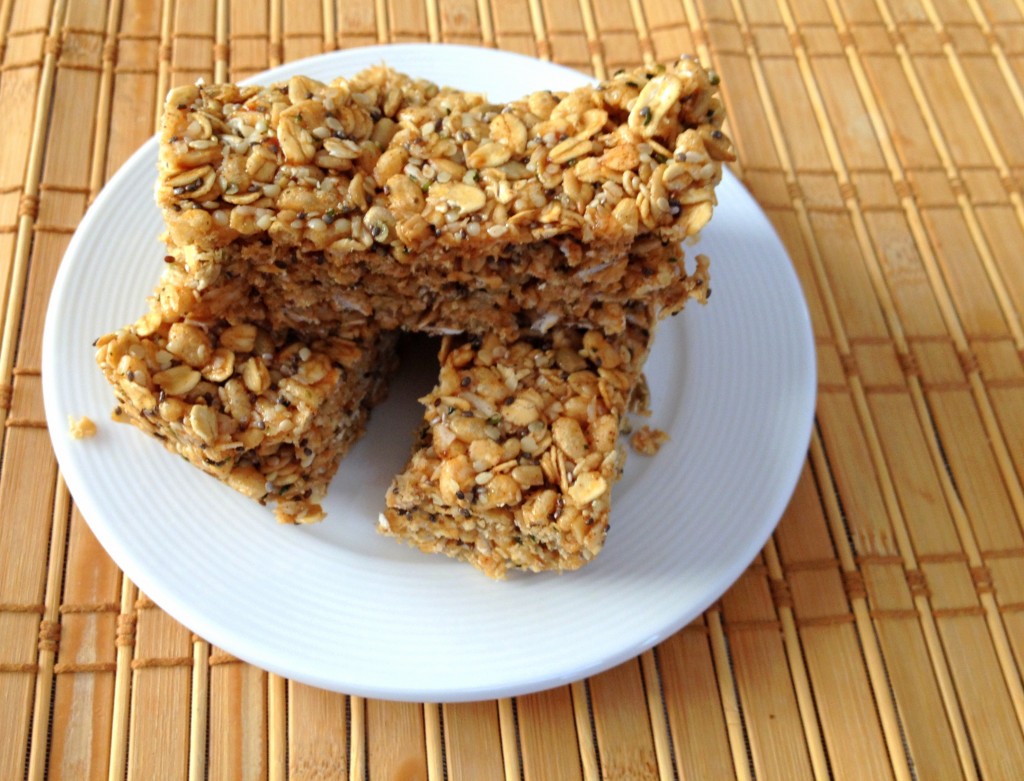 The second recipe I tested was one of the homemade staples: Grapeseed Mayonnaise. I have always wanted to try to make mayonnaise and was especially intrigued by this recipe for a vegan mayonnaise. The recipe turned out perfectly! I was so impressed at how easy it was to make and how good the result was! I will definitely try to keep a jar of this mayonnaise in my fridge at all times! The picture of my Grapeseed Mayonnaise is below, in the Mason jar next to the Chickpea Salad Sandwich.
For my third recipe, I used the homemade Grapeseed Mayonnaise to make Angela's Perfected Chickpea Salad Sandwich. Instead of making a sandwich, I served  it with gluten-free bread as an open face "tartine". I really love the mixture of textures, with crunchy veggies and soft chickpeas, which are bound together with the creamy homemade vegan mayonnaise. I made the recipe and then kept the leftover in the fridge, which makes a great snack. I even ate some for breakfast and it was so tasty… yes, breakfast… if you did not know that about me, I love to eat savoury food for breakfast, and I also love leftovers for breakfast! I am a true believer that breakfast is the most important meal of the day so I love to start my day with a protein filled meal!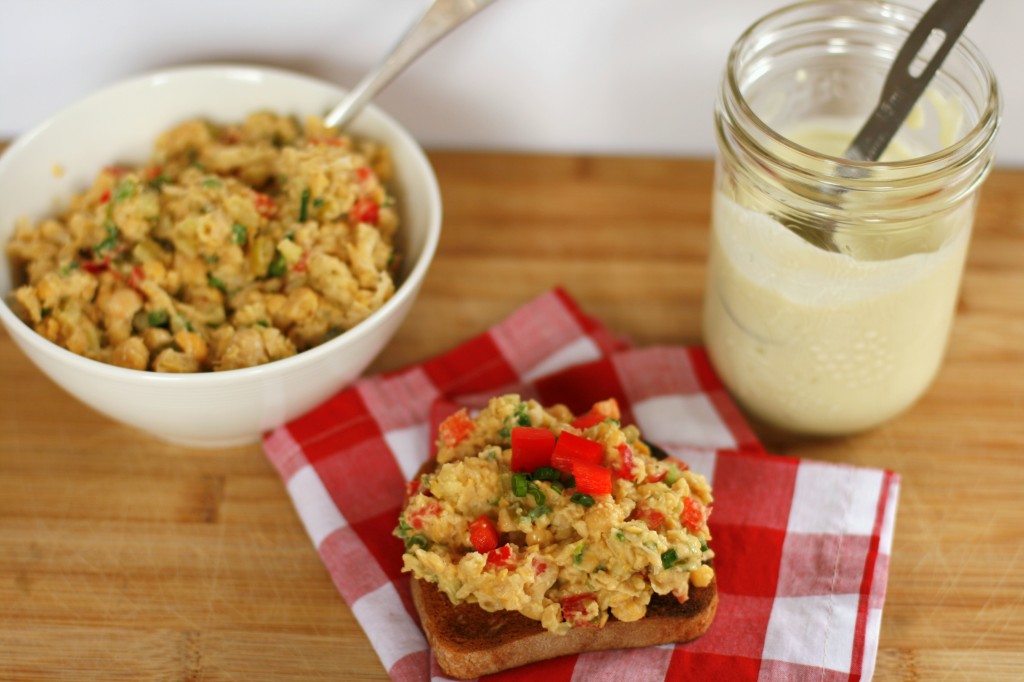 Finally, I was intrigued by the Life-Affirming Warm Nacho Dip so I decided to give it a try. Believe me, I now understand where the name comes from! It is definitely the best nacho dip I ever tried in my life and you cannot tell there is no dairy in it. My husband and I ate the dip with corn chips and it is definitely something that would be amazing to bring to a dinner party. We will definitely be making this again and again!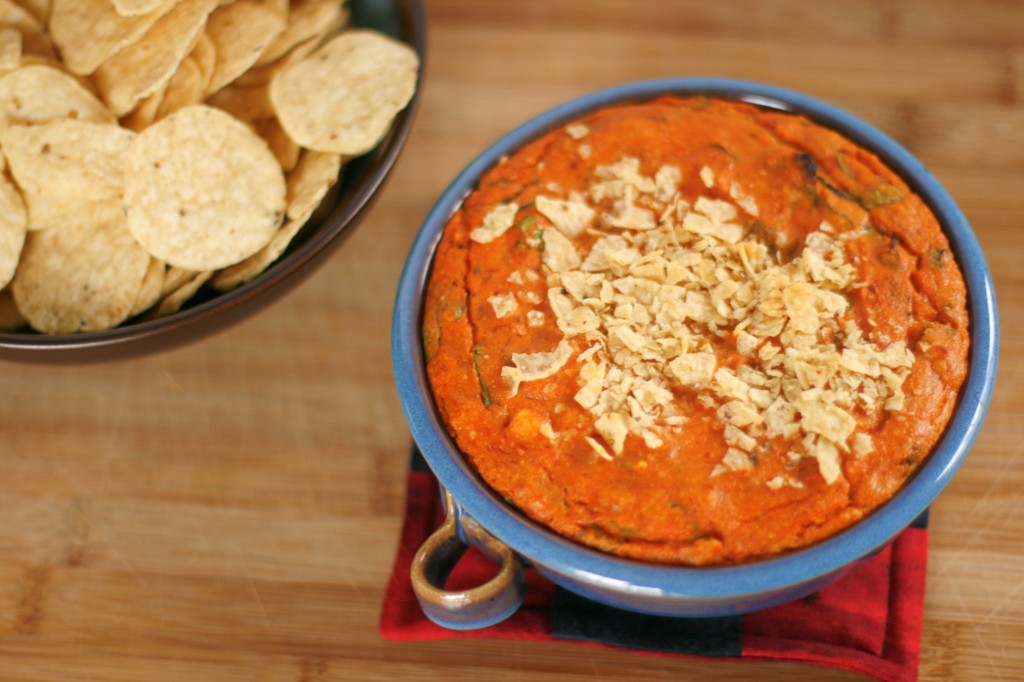 4. Overall Rating
Without a doubt, Angela's cookbook is extraordinary! It so well organized, well written, cohesive, and has beautiful photographs. In addition, the recipes are very creative and so delicious! If you love healthy and vibrant vegan food, I truly recommend having a look at the Oh She Glows Cookbook, all the recipes I tried were so delicious and I can't wait to try some more!
The small caption on the cover (vegan recipes to glow from the inside out) definitely applies to both the recipes and the cookbook. They are all just glowing and I really can't wait for perhaps another cookbook from Angela!