This winter, I have been cooking a big pot of soup almost every weekend. Soup is so comforting in the winter and it is such a great way to eat lots of veggies! Soup is so versatile, you can serve it to your guests as an appetizer, bring it to work for lunch or warm it up in the evening for a quick and light supper.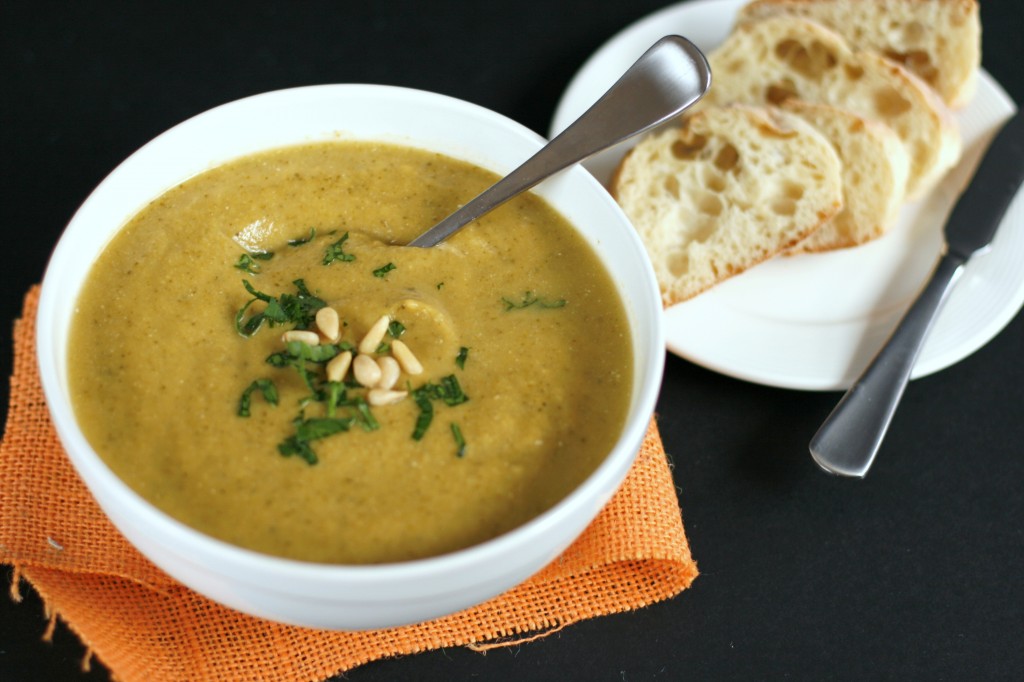 Do you love pesto? Well, the green soup that I created this week has the delicious taste of pesto, without all the oil and cheese! Here is my recipe for a delicious cream of brocoli, sweet potato and basil that is extra creamy due to the pine nuts! And those hints of pesto are just so yummy!
Stay tuned as I will be sharing more delicious soup recipes in the coming weeks. What about you, do you eat lots of soup in the winter and what is your favourite winter soup?

Cream of Broccoli, Sweet Potato and Basil
This cream of broccoli, sweet potato and basil is extra creamy with pine nuts and delicious also has hints of pesto.
Ingredients
2 large red onions, roughly chopped
1 tbsp grapeseed oil
2 sweet potatoes, diced
8 cups of broccoli florets
8 cups water
3 cloves garlic
3 tablespoon fresh basil, finely chopped
1 teaspoon sea salt
½ teaspoon black pepper
4 tablespoon pine nuts
Instructions
In a large pot over medium heat, fry onions in grapeseed oil for about 8-10 minutes or until softened.
Add sweet potatoes, broccoli florets, water,garlic, basil, salt and pepper.
Bring to a boil and simmer on medium heat for approximately 45 minutes.
Mix in pine nuts.
Process the soup in your blender or food processor until creamy and smooth.
Garnish with fresh basil and pine nuts if desired.