I love crunchy and salty snacks, but it is sometimes difficult to find healthy food that meets these criteria! I was playing with my dehydrator and made those delicious zucchini chips which fit all these criteria! I use the 9 tray Excalibur dehydrator and I love it because I can make a few different kinds of fruit leather like my Blueberry Chia  or Strawberry Maca fruit roll-ups, camping meals and other goodies all at the same time. This way, the long wait for dehydrating is definitely worth it because once I have patiently waited, I get lots of dehydrated food that will last a while.
I highly recommend making a few batches of these zucchini chips if you want to keep some for later! They are so delicious they will be gone in a heartbeat.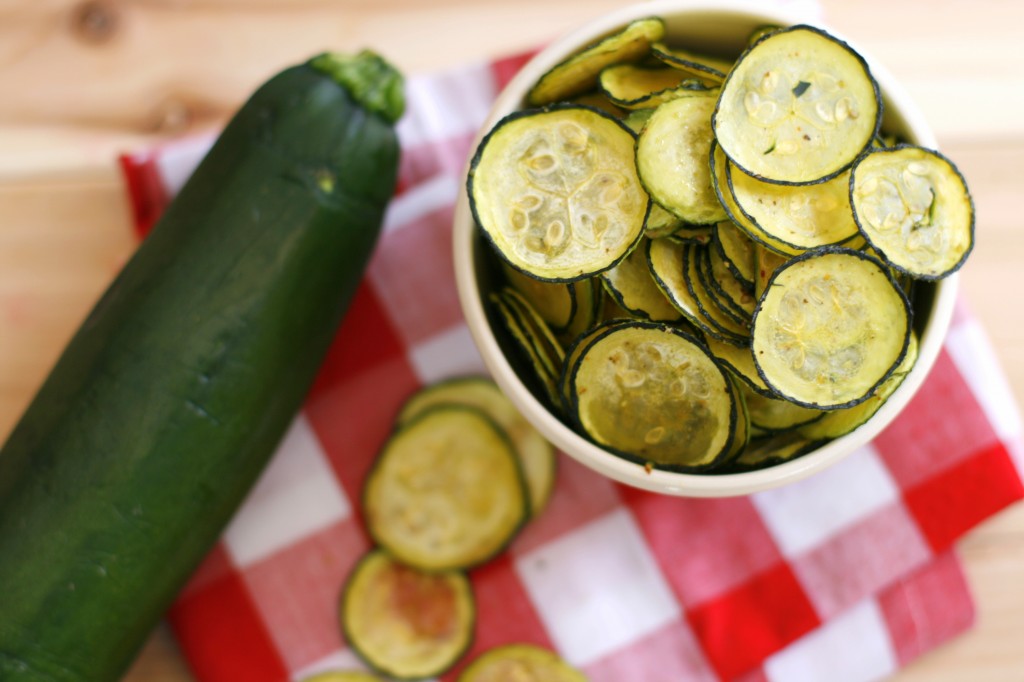 Spicy Zucchini Chips
These healthy zucchini chips are the perfect crunchy and spicy snack.
Ingredients
2 zucchinis
1 teaspoon olive oil
½ teaspoon garlic powder
¼ teaspoon sea salt
¼ teaspoon black pepper
⅛ teaspoon cayenne pepper
Instructions
Slice the clean zucchinis into thin slices. I use the slicer attachment on my food processor to get slices of same thickness.
In a mixing bowl, toss olive oil, garlic powder, salt, pepper and cayenne pepper onto the zucchini slices and mix well. I like to use my hands for mixing to ensure all the slices are coated.
Place the slices on a dehydrator tray. The 2 sliced zucchini will fill about two and a half Excalibur large dehydrator trays.
Dehydrate at 105 degrees for 12-15 hours, or until they are crunchy.
Eat right away and if there are any leftovers, store in airtight container.