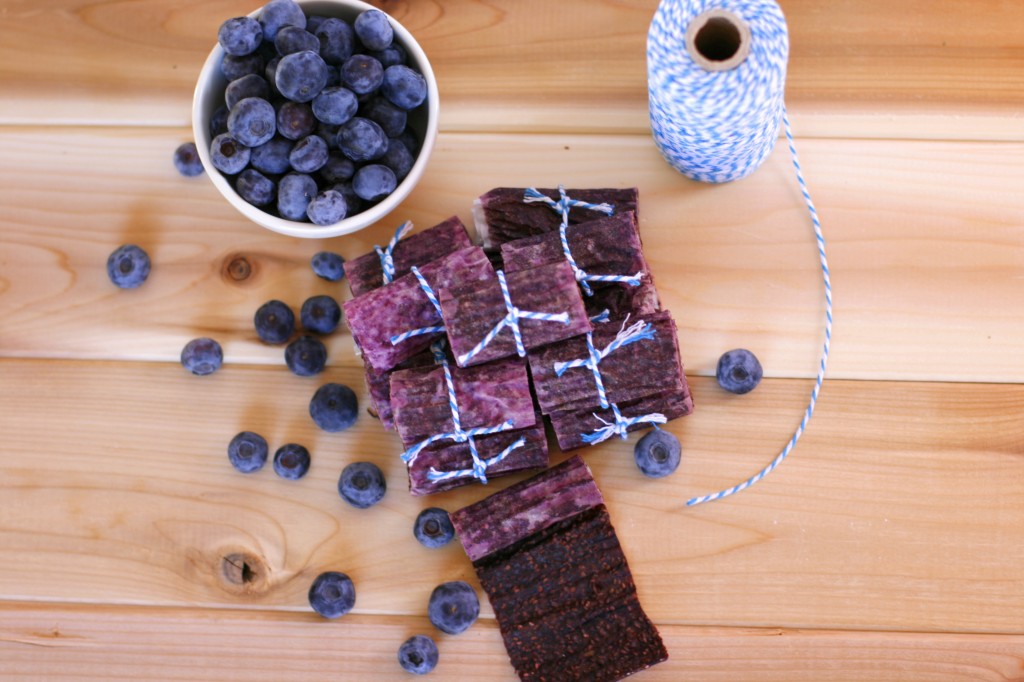 I love fruit roll-ups and try to keep some prepared in the pantry as often as possible. They are the perfect healthy snack and can satisfy your sweet tooth. Last week, I made Strawberry, Maca and Almond Roll-Ups and this week I am back with a batch of Blueberry Chia fruit leather. Chia seeds are filled with protein, fiber and healthy omega fats and are therefore a great addition to antioxidant rich blueberries.
When I use my Excalibur dehydrator, I usually try to fill it as much as I can. I therefore make a few different kinds of fruit leather and then have some delicious snacks on hand for the next few weeks. You can really put any fresh fruit that you have on hand and I love to add superfoods, like maca last week, and chia seeds this week. Next week I will be back with another very different and so delicious fruit roll-up recipe that you can try!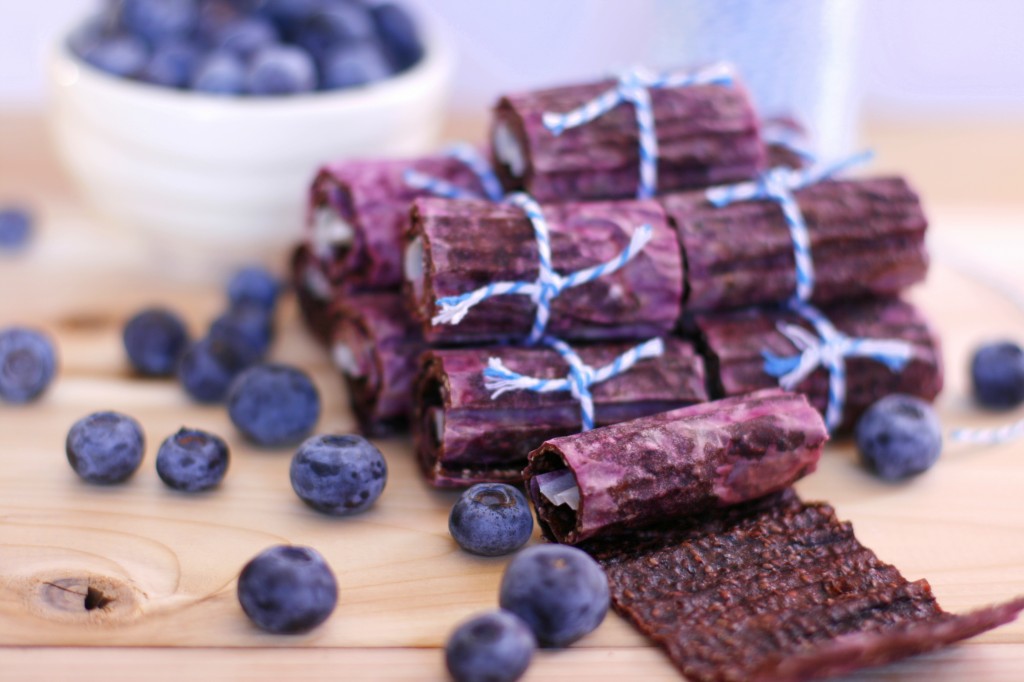 Blueberry Chia Fruit Roll-Ups
These blueberry chia fruit roll-ups are a sweet and healthy snack.
Ingredients
2 cups blueberries
½ cup apple sauce
2 tablespoon chia sheeds
3 Medjool dates, pitted
Instructions
Puree all ingredients in a food processor.
Using an offset spatula, spread the mixture over a parchment paper-lined dehydrator sheet. Make sure it is approximately ⅛ inch thick and fairly even.
Dehydrate at 115oF for 8-12 hours. You want it dry enough so it does not stick, but it needs to stay pliable. Drying time may vary on humidity levels and thickness of your mixture.
Once it has reached the desired consistency, remove parchment paper from dehydrator tray. Keep the paper and fruit leather together.
Using scissors, cut the parchment paper together with the fruit leather in half.
Roll each half lengthwise.
Attach 6 strings on each piece and cut each roll into 6 smaller rolls.
Store in an airtight container for 2-3 weeks.