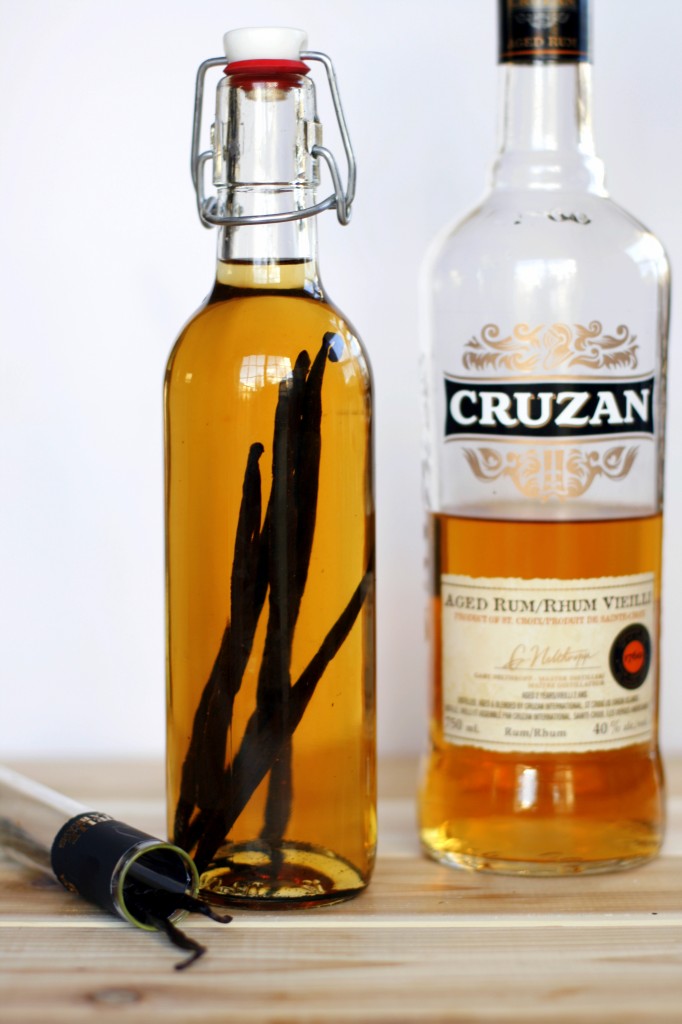 Making your own vanilla extract is so easy and so delicious! I always keep a bottle on hand to be ready for use in my recipes. It only takes 5 minutes to prepare and you will enjoy it for months to come! You simply need to get some good vanilla beans and alcohol. Vodka can be used to make this, but I seriously love to use some aged amber rum – it gives the vanilla extract such an incredible flavour! Here is the recipe and procedure :

Homemade Aged Vanilla Extract
This aged vanilla extract made with amber rum will add a very distinctive flavour to your baked goods for only a fraction of the cost of real vanilla extract. And the best part is that it only takes a few minutes to prepare!
Ingredients
5 vanilla beans
350 ml aged rum
Glass bottle or jar
Instructions
Cut open the vanilla beans with a sharp knife lengthwise.
Place the vanilla beans in a glass bottle or jar.
Fill the jar with aged rum.
Seal the bottle and place in a dark cool place for 4-5 weeks.
Shake the bottle a few times per week to ensure the flavours of vanilla beans are blending with the alcohol
After 4-5 weeks, pour a small quantity of the alcohol in a small bottle for use in other recipes and refill the bottle with alcohol to the brim to continue maceration.
You can keep refilling your bottle for at least 6-8 months.