These muffins are such a quick and delicious treat to prepare. They only require a few ingredients that can all be blended in a food processor for a super quick result.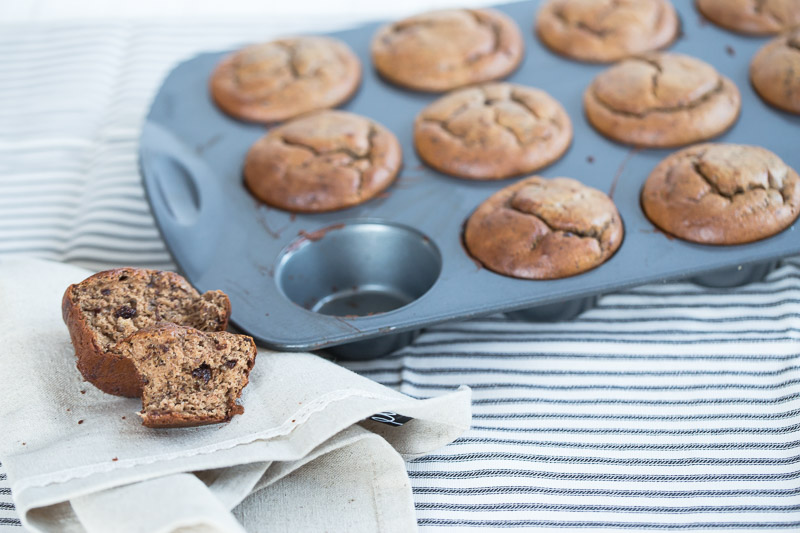 It is so amazing that you can have super moist and chocolaty muffins while only needing to clean one bowl afterwards. These muffins are great for breakfast or a snack. They do not contain any refined sugar, as they are sweetened only with bananas and a bit of agave nectar. I have made those a few times and they have definitely become a morning staple!

One Bowl Flourless Peanut Butter Chocolate Muffins
These flourless muffins are so fluffy you would never guess there is not one bit of flour in it. The peanut butter, bananas and chocolate make them so moist and so tasty. The greatest benefit of this recipe is that all the ingredients go in your food processor container, so you only have one bowl to clean. They are the perfect muffin for a healthy breakfast or mid-day snack.
Ingredients
1 cup all-natural peanut butter
2 ripe bananas
½ cup semi-sweet chocolate chips
¼ cup agave nectar
3 eggs
1 teaspoon vanilla extract
½ teaspoon baking soda
½ teaspoon sea salt
Instructions
Preheat oven at 350 degrees F.
Grease one muffin pan (12 muffins) with butter or coconut oil.
Place all ingredients in food processor and process until even batter. The chocolate chips will break down a bit, but you will still have chocolate chunks.
Scoop ¼ cup of batter in each of the greased muffin cavity.
Bake for 18-20 minutes, until golden and when a toothpick inserted in center of muffin comes out clean.
Allow to cool in muffin pan for 15 minutes before removing muffins. Let them cool on a wire rack.
Store in airtight container in refrigerator for about 5 days.