Happy New Year! It has been one year since I started Homemade Hearts and I am so pleased with how 2014 went. Over the course of the year, there were over 380,000 page views (391,732 to be exact) and more than 50,000 unique readers. I published more than 120 recipes and I got to read all of your amazing feedback and comments. I have also furthered my photography skills and learned lots of new cooking techniques.
I am now working on a few fun things for 2015, such as an awesome ebook, but more on this in the near future. Thank you for all your support over the past year and I am looking forward to more delicious recipes, fun projects and culinary discoveries in 2015.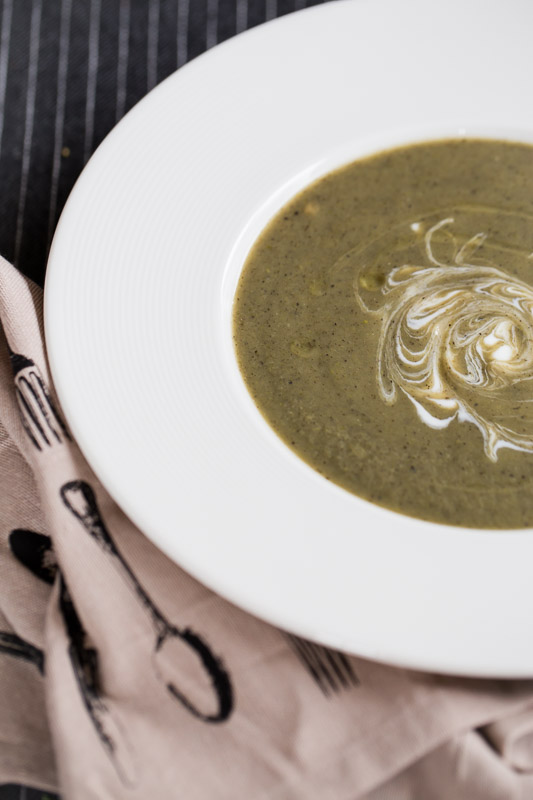 Now that the holiday season is over, I have been craving soup. If you are like me and just want a light but delicious meal, you must try this cream of vegetables. It is really simple to make, yet the combination of flavours is so delicate and delicious. Portobello mushrooms are mixed with asparagus and topped with a drizzle of black truffle oil for an enhanced mushroom flavour. You can add a beautiful swirl of plain yogurt to make it even creamier, or keep it vegan by omitting the yogurt.
This yogurt swirl just makes the soup look like it could be served in a restaurant. Are you wondering how to get this super pretty swirly effect? It is very simple, all you have to do is to drop a spoonful of plain yogurt in the middle of your soup. Then, using a clean knife or chopstick, simply trace horizontal and vertical lines in the soup, going through the yogurt and finish off with a circular motion to create these beautiful swirls. It only takes a few tries to master this swirling technique! Without waiting any longer here is the recipe, try it and practice your swirling technique. Hope you enjoy!

Cream of Asparagus, Portobello and Black Truffle
This cream of asparagus and portobello mushroom is flavoured with white miso and topped with a drizzle of delicate black truffle oil for a truly enhanced mushroom flavour.
Ingredients
1 medium yellow onion, diced
1 tablespoon grapeseed oil
2 large portobello mushrooms, roughly chopped
15-20 asparagus, cleaned and cut into 3-4 pieces
2 cups broccoli, roughly chopped
3 to 4 cups water
1 tablespoon white miso
1 teaspoon garlic powder
½ teaspoon celery seeds
1 teaspoon herbes de provence
½ teaspoon sea salt
½ teaspoon black pepper
2 tablespoon black truffle oil
2 tablespoons yogurt (optional)
Instructions
In a large pot over medium heat, cook onion in grapeseed oil until soft.
Add portobello mushrooms, asparagus, broccoli, water, miso, garlic powder, celery seeds, herbes de provence, salt and pepper. Start by adding 3 cups of water, the water should just cover the vegetables. Add more water as needed.
Bring soup to a boil. Reduce heat and simmer for 15-20 minutes.
Transfer soup into a blender and blend until smooth.
Serve soup into bowls and garnish with a drizzle of black truffle oil and a dollop of plain yogurt (optional).