Last weekend, I made hundreds of macarons with my lovely friends Melany and Sophie from Fine Food Factory and Sandrine. There were four of  us and we wanted to have enough to bring to Christmas dinners and give away to loved ones, so we decided to make approximately 800 macarons, which means 1,600 shells. After using 4 kg of almond flour, 4 kg of sugar, 4 kg of powdered sugar, loads of egg white and 11 hours of hard work, we made close to 800 macarons (minus a few that we dropped or that got broken in the handling process). The day was a success and we each left with close to 200 macarons of all colours and flavours!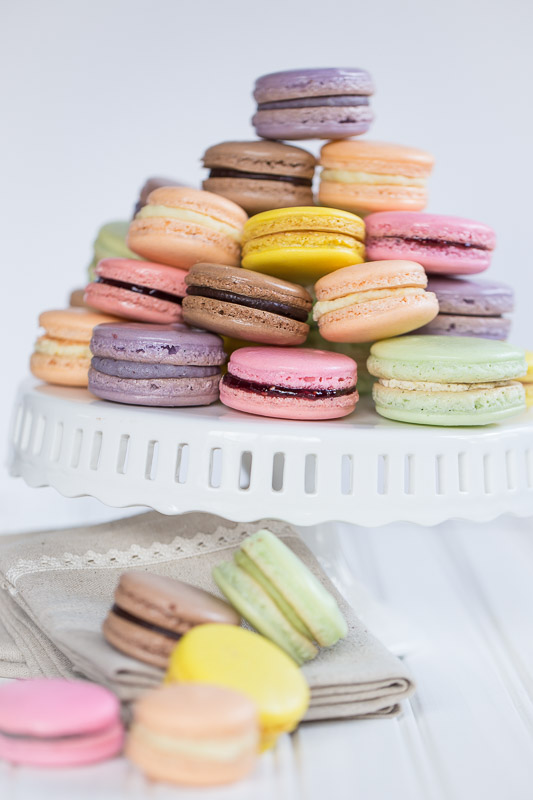 Making macarons is quite challenging so it was amazing to be making it with the two chefs who know all the techniques to make successful macarons! Be warned that if you want to make some, you need to have a kitchen scale and a candy thermometer since you need to precisely weigh the ingredients and use your thermometer to get the right temperature for the meringue.
In order to be more efficient on the day of macarons making, we each prepared fillings the day before. Here are the filling flavours that we prepared:
Orange (white chocolate ganache with zest from one full orange)
Pistachio (buttercream frosting with ground pistachio)
Espresso (dark chocolate ganache with instant espresso powder)
Blueberry (white chocolate ganache with fresh blueberries)
Green Tea (white chocolate ganache with matcha green tea powder)
Raspberry (jar of raspberry jam)
Strawberry (jar of strawberry jam)
Lemon (lemon curd)
Nutella (a big jar of nutella!)
Caramel Fleur de Sel (the caramel was too runny so we did not end up making many – we will work on a recipe until we make some more again!)
Here are a few of the steps to do for making macarons. First, you need to sift the almond flour with powdered sugar to ensure there are no large clumps of almond in your mixture.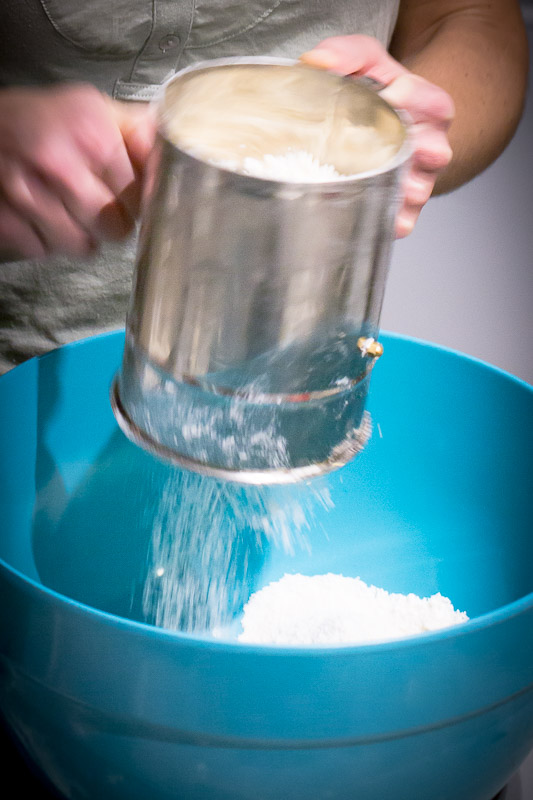 Then you prepare an Italian meringue (instructions below), mix it with the almond mixture to obtain your batter, to which you can add colour. You pipe the batter on parchment paper lined baking sheets. To make almost perfect circles, we traced 4 cm diameter circles on a parchment paper to use as a guide. We placed that sheet under the parchment paper to make it super easy to pipe the macarons.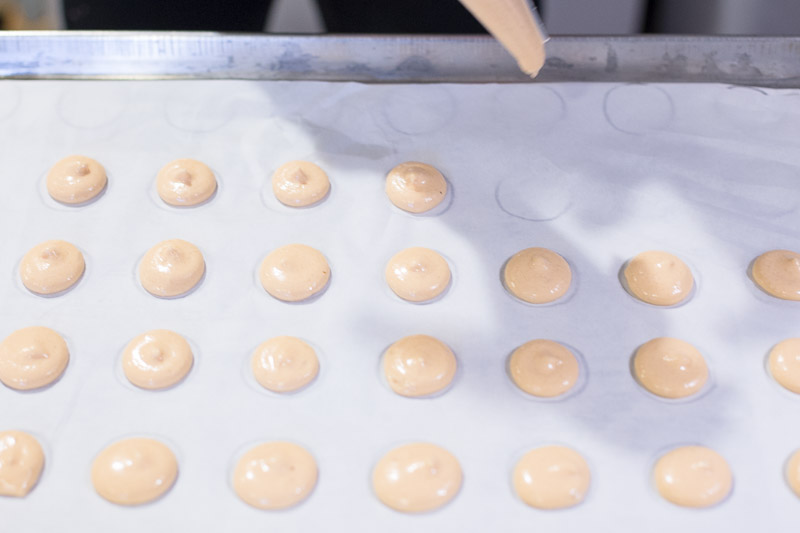 Once the shells are piped, we gently tapped the baking sheet on the table to flatten the top of the macarons to get nice and smooth shells. After, you have to let the macarons set for about 30 minutes until a crust forms on top.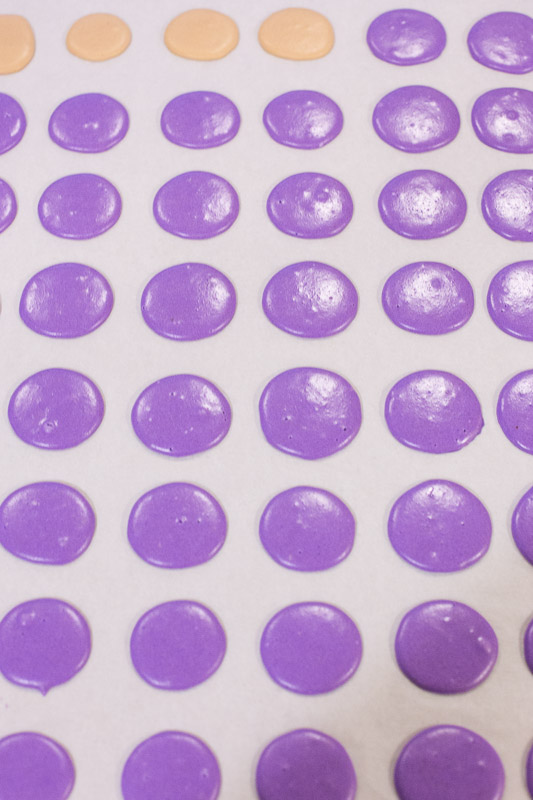 Finally, you bake them in the oven and once cool, add your delicious filling and assemble them. The result is magnificent and so amazing! We made 11 batches of this recipe in one day, to get 770 macarons! It was an intense day, but we were so happy to each leave with more than 150 macarons of all different colours and flavours! Here is the recipe that made those perfect macarons! There are many recipes out there, but this is Sophie's favourite recipe and it worked wonderfully for us!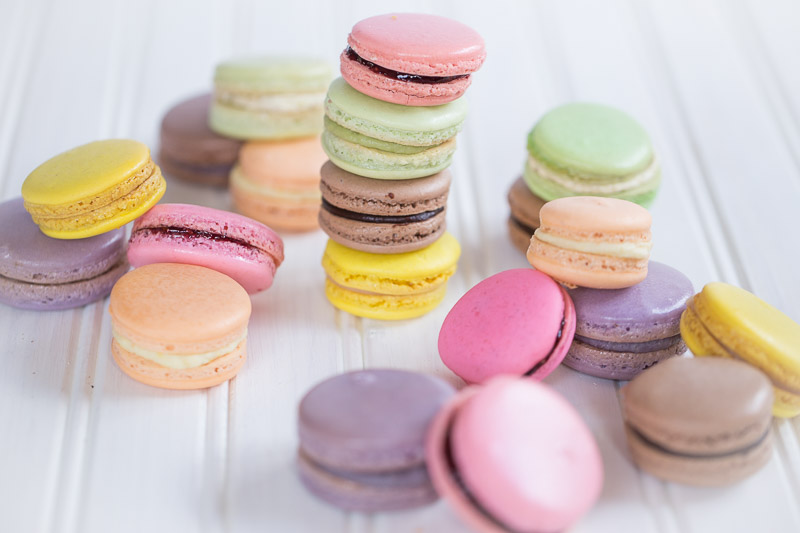 French Macaron Shells
These classic French macaron are entirely gluten-free. They are made with finely ground almond flour and an Italian meringue for perfect results! This recipe makes approximately 140 shells, for assembling 70 macarons.
Ingredients
Base
300 grams almond flour
300 grams powdered sugar
110 grams egg whites
Italian Meringue
300 grams white sugar (regular sugar, granulated)
75 grams water
110 grams egg whites
Making Macarons
Gel or powdered food colouring (Do not use liquid food colouring. For natural colour, you can use 30 grams cocoa powder for brown shells)
525 mL filling (such as fruit jam, white or dark chocolate ganache with flavours (see examples in above post), Nutella, etc)
Instructions
Base
The first step is to weigh almond flour and powdered sugar and sift them together to remove any large bits of almond flour.
Once sifted, weigh the mixture again and replace any missing weight with the same amount of sifted almond meal. You should have 600 grams of the mixture in total.
Pour 110 grams egg whites over the almond flour mixture and set aside. Do not mix.
Italian Meringue
To make the Italian meringue, you need to put white sugar and water in a small pot.
Cook sugar on medium heat until temperature reaches 110 C (230 F).
When the sugar reaches this temperature, start whipping the other quantity of egg white (110 grams) in a stand mixer, at a high speed. You should mix until peaks form in the egg whites.
When the sugar temperature reaches 115 C (239 F), slowly pour the sugar onto the whipping egg whites and keep the mixer going at high speed for about one minute.
Reduce the speed of mixer to medium and keep whipping for a few minutes, until the mixture reaches temperature 50 C (122 F).
Making Macarons
With a spatula, fold in the meringue into the almond/egg mixture until the mixture starts to become shiny. You do not want to overmix because the batter will become to thin and will be hard to pipe.
Add the food colouring or cocoa powder and gently mix to distribute evenly.
Fill a pastry bag fitted with a 1 cm round tip with the mixture.
Pipe rounds of about 4cm (1.5 inches) diameter onto a parchment paper lined baking sheet.
Tap the baking sheet gently to remove any piping imperfections (you don't need to do this step if there are no imperfections such as bumps or air bubbles in your shells).
Preheat oven at 300 degrees F.
Set the piped shells aside at room temperature for 30 minutes to one hour, or until the shells form a skin (dry layer on top of the shell)
Cook for approximately 14 minutes. After 8 minutes, you should prop the oven door slightly open with a wooden spoon to let the humidity escape the oven. To know if the shells are fully cooked, you can gently giggle the top of a shell and if the inside of the shell does not move, or if the shell lifts up from the parchment paper, it means that it is ready. If you feel that the insides of the shell is still soft and moves, leave the tray in the oven for a few more minutes.
When the shells are ready, slide the parchment paper off the baking sheet onto a cold surface (marble, steel, glass) to stop the cooking.
Let the shells cool until you can easily detach them from the parchment paper.
Pour your chosen filling into a piping bag.
Pipe the filling on the bottom flat side of the shells. Only include filling on half of the shells, you can make a small mount of filling in the center of the shell.
Take a shell that does not have filling and grently press it over a shell with filling in a circular motion to spread the filling evenly.
You now have a beautiful macarons!
Store the macarons in an airtight container the refrigerator and serve at room temperature. You can also freeze the macarons to keep them longer. You simply need to transfer them to the refrigerator a few hours before serving them.
Notes
Here are a few tips to make perfect macarons:
1. Macarons tend to crack when there is a lot of moisture in the air so try to make them on a dry day (avoid rainy days!) It started raining when we were making our macarons and we had probably close to 10% of our macarons crack because of humidity!
2. Separate your egg whites a few days before making the macarons and let them sit in a container, in the refrigerator for a few days. On the morning of your macaron making day, set the egg whites on your counter since they need to be at room temperature for better results.
3. Prepare your filling at least one day before making the shells to ensure it has enough time to cool down and set.
4. To get perfectly round macarons, trace even circles on a parchment paper sheet and place it under your "real" parchment paper sheet as a guide when piping the shells. We fit 48 shells on one large baking tray (6 shells wide by 8 shells long).