I love automn, especially when so many deep purple beets are dug out of the ground. It is one of my favourite vegetables, so sweet and delicious. On weekends where fresh beets are available at the farmers stands, I love buy a bunch and roast them in the oven. I find that roasting beets gives them a deep umami flavour that makes you wanting more. In addition, having roasted beets on hand really helps with my meal prep for the week. I usually marinate roasted beets for a delicious side dish, add them to salads or make awesome roasted beet burgers.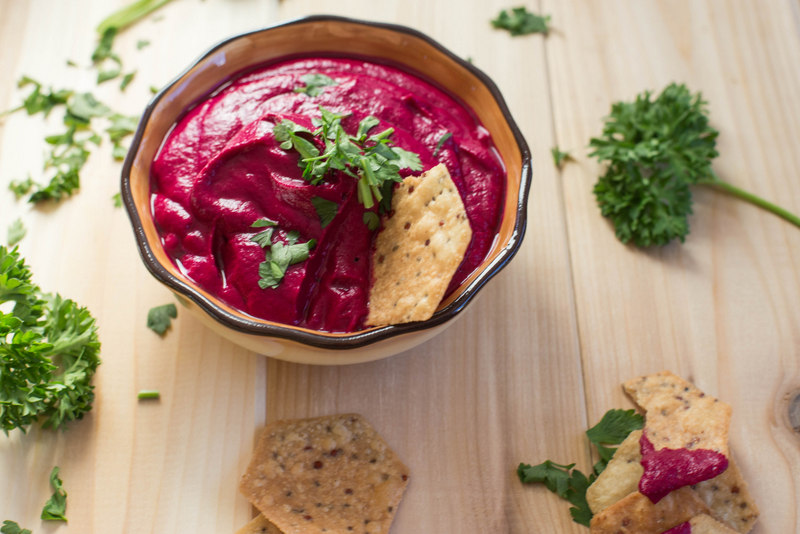 Here is another fun recipe that I love to prepare when I have extra beets on hand: a flavourful roasted beet spread. It is a very versatile spread that you can use on sandwiches, wraps and salads. It is also so delicious to eat it as a dip with crackers or vegetables.
Roasted Beet Spread
This roasted beet spread will add flavour to all your sandwiches and wrap. It is also delicious as a spread on cracker, or as a dip with vegetables.
Ingredients
2 cups roasted beets (2-3 medium beets)
¼ cup tahini
3 tablespoons lemon juice
2 tablespoons fresh parsley
2 cloves garlic
3 tablespoons olive oil
½ teaspoon sea salt
Instructions
Blend all ingredients together into a blender.
Store in an airtight container in the refrigerator for one week,
Spread on sandwiches, wraps, crackers or serve as a dip with vegetables.