Do you love pizza as much as we do? If you do, try this pizza soup. It may sound strange but believe me, you have to try it! It is incredibly tasty and so much healthier than a large slice of pizza (or two or three)!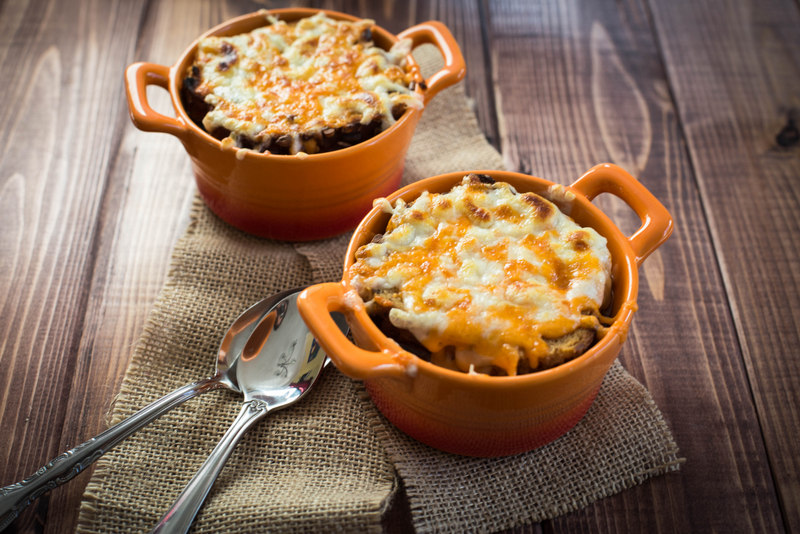 You first dig through a tasty layer of crispy grilled cheese that tops a toasted slice of bread. Then you get to the soup: a thick tomato soup with all the toppings that you would find in a gourmet pizza: mushrooms, onions, broccoli and proscuitto. The result is a flavourful dish that tastes just like pizza. This is such a comforting meal!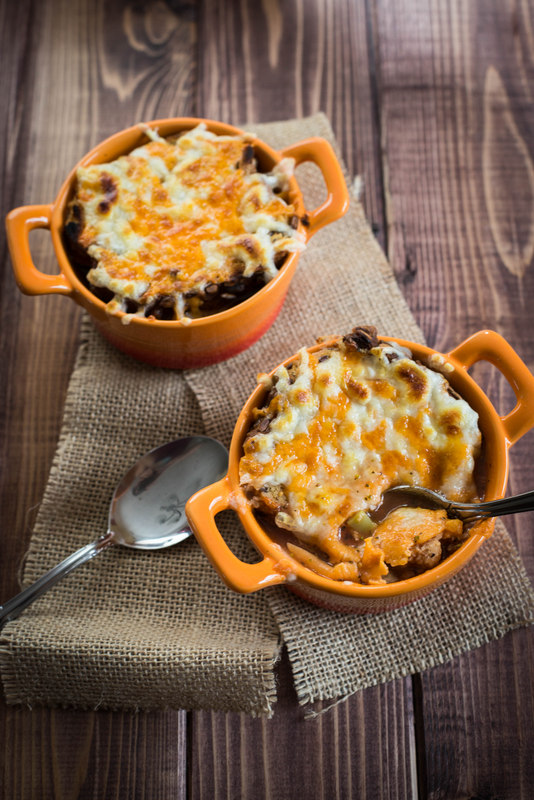 When I saw a pizza soup recipe in Michael Smith's new cookbook, I knew I had to make it. We loved it so much that I had to make it a few times, and of course, I adapted it. In this recipe, I included the pizza toppings that I love, but feel free to adapt it and include your own toppings! Here is my version of the pizza soup.

Pizza Soup
This pizza soup is incredibly tasty and healthy! A warm bowl of vegetable soup is topped with a slice of toasted gluten-free bread and crispy cheese. This is the perfect comfort meal and will certainly please all the pizza lovers out there!
Ingredients
Soup
2 tablespoons vegetable oil (I used avocado oil)
1 onion, finely chopped
4 cloves garlic, crushed
1 can (28 oz) diced tomatoes
1 tablespoon dried oregano
2 cups (454 g) white mushrooms, sliced
1 head of broccoli, cut in small florets
6 slices proscuitto, diced
4 cups vegetable broth
½ teaspoon sea salt
1 teaspoon freshly ground black pepper
For oven proof soup bowls
6 slices gluten-free bread
½ cup shredded mozzarella
½ cup shredded old cheddar
Instructions
Place a large soup pot on medium heat and cook onions and garlic in vegetable oil for about 3 minutes, until soft.
Add crushed tomatoes, oregano, mushrooms, broccoli and proscuitto.
Incorporate vegetable broth and season with salt and pepper.
Bring to a boil and then simmer on low heat for 15-20 minutes to let the flavours combine and allow the vegetables to soften.
While soup is simmering, toast bread slices in the toaster.
Trim slices to fit oven proof soup bowls.
Laddle soup into 6 oven proof soup bowls.
Top bowls with bread and add shredded cheese.
Broil in the oven for 3-4 minutes, until cheese is melted and golden.
Enjoy!