In April, I started doing the Complete Course in Professional Photography at the New York Institute of Photography. A few months ago, I shared my review of Unit 1  and Unit 2 of the course. Last week, I finally completed Unit 3 and am ready to share the overview of my experience to complete this lesson. It took me a lot longer than I anticipated to complete this unit because a lot happened in the past few months with the summer holidays and life in general. During this unit about lighting, I also wanted to really take the time to practice with different types of lighting and studio setups, which was something completely new to me. I did a few food photo shoots in my home studio and on site using floodlights. I got a speedlite and started playing with strobe lighting in my studio (living room) as well. I also took the time to build my professional food photography portfolio here, which was a super fun exercise in itself. For all these reasons, I took my time with Unit 3 because there was a lot of technical information that I wanted to practice in my studio.
Light is the true building block of photography and I believe is it really important to master lighting in order to become a great photographer. Through my food photography, I have played quite a bit with natural and available light, but have had limited exposure to artificial light. This unit provided me with some of the knowledge needed to understand the various types of lighting equipment and how to use them to obtain great results. After completing this unit, I feel a lot more comfortable with artificial lighting.
Unit 3 – Harnessing the Light, was broken down into 8 lessons:
Lesson 1. Natural and Available Light: This lesson covered  sunlight and available light and how to best capture it to give the desired effect/mood to your photograph. We looked in detail at light direction, colour, quality and also learned about night time photography.
Lesson 2. Artificial Light – Continuous: In this lesson, we were introduced to continuous artificial light such as floods and spots and their characteristics (intensity, direction, quality and colour). I found this lesson very valuable because we learned how to set up a home studio at with basic equipment. During this unit, I set up a small studio in my living room and was able to get lots of practice done. This practical experience really helped understand the principles tought during this lesson.
Lesson 3. Artificial Light – Flash: This lesson on flash was extremely complex and probably the most difficult of Unit 3. There were lots of numbers and calculations for using guide numbers, synchronization speed, ratios, outputs, etc. When I got my new Canon Speedlite and tried to play with it, I realized that these external flashes are quite complex and I will likely have to supplement what I learned in the course with additional readings and videos. I have also started re-reading this unit a second time to see if I missed any key elements that would help me use my Speedlite properly. I can do the basics but I feel that there is so much more that I haven't completely grasped yet.
Lesson 4. Travel Photography: This was such a fun and simple lesson that was very quick to complete. There was very interesting information about what gear to pack when traveling, how to prepare for airport and customs and how to protect your gear in extreme conditions (hot, cold, humid, rain). There was also information about how to get great travel photos that are different and unique, and finally tips on how to organize and process your travel photos.
Lesson 5. Landscape and Flower Photography: This lesson, similar to Lesson 4, was very interesting and quick to complete. In the landscapes section, we learned about lighting, reviewed information about depth of field, and touched on framing and converging lines. We also got some tips on shooting in different conditions such as sunset, fog, snow, water and waterfalls. In the second part, we learned about various ways of photographing flowers indoor and outdoors.
Lesson 6. The Perfect Print: This unit was quite interesting and I surprisingly learned a lot of stuff I did not know about the different types of printing labs, colour, and even the different types of paper that are out there.
Lesson 7. Essential Business Skills – Introduction to the Business Correspondence: I did not learn much new information in this unit on business correspondence, which mainly focused on how to write emails. I can see the value of it for people who do not have much experience in the business world. I did not learn much in this lesson, but it was very short, so it's ok!
Lesson 8. Optional – The Darkroom: I have to be honest here, I did not go through this lesson since it is optional and I am not planning to do any darkroom work in the near future.
After finishing all the lessons, I completed the open book multiple choice exam. I found the exam to be an excellent opportunity to go back through each lesson and review the information one more time. This helped make the information sink into my brain even more. As I mentioned in my previous posts, I find that I need to see information 2-3 times to really remember it, and the open book exam is an excellent way to review!
Finally, I completed my Photography Project for Unit 3, in which I had to submit 6 photos to demonstrate that I understand some of the lighting techniques that I learned in that unit. I submitted my pictures for the photo project and received feedback from my instructor about 3 days later. My instructor sent me 10 minutes of comments on my photos and I always find his comments so constructive. He highlighted what I did well, but really goes further by outlining some tips and ideas to push the concepts even further. I truly enjoy listening to his review and tips to improve even more. Here are the photos I submitted:
Photograph 1 – Direct Sunlight coming at 45 degree angle: For the first submission, I had to photograph an outdoor object (not a person) that was lit by direct sunlight coming at 45 degree angle. I went down the road one evening and took a few pictures of sailboats. On this picture, the sun lighting the rocks at a 45 degree angle. To take this picture, I used my 24-105mm lense at a focal length of 65mm, shutter speed of 1/100 and F-Stop of f/11.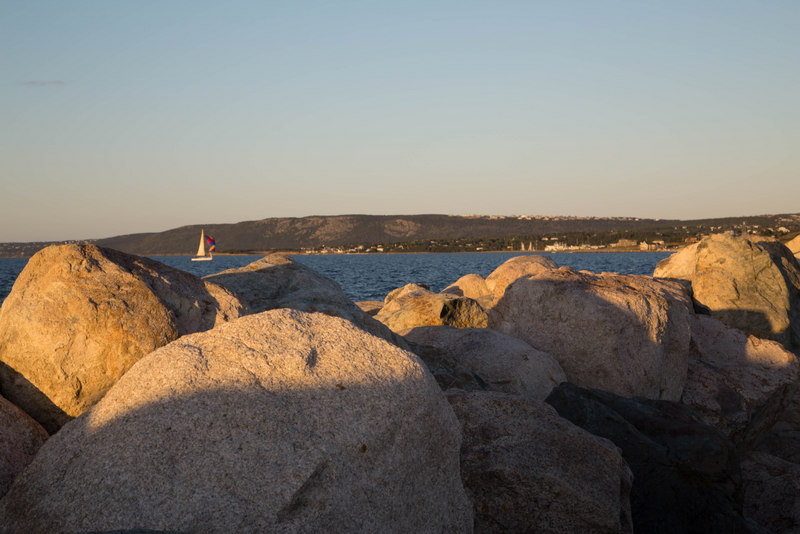 Photograph 2 – Sidelighting: For this photo, I had to photograph an outdoor object (not a person) that was side lit by direct sunlight coming at 90 degree angle. Sidelighting is great to bring out texture in an object. I went under a bridge and was just amazed at how much texture that pipe had with the paint peeling. The sun was lighting at a perfect 90 degree angle so I captured a few shots and this one was my favourite. For this shot, I used my 24-105mm lense at a focal length of 85mm, shutter speed of 1/80 and F-Stop of f/11.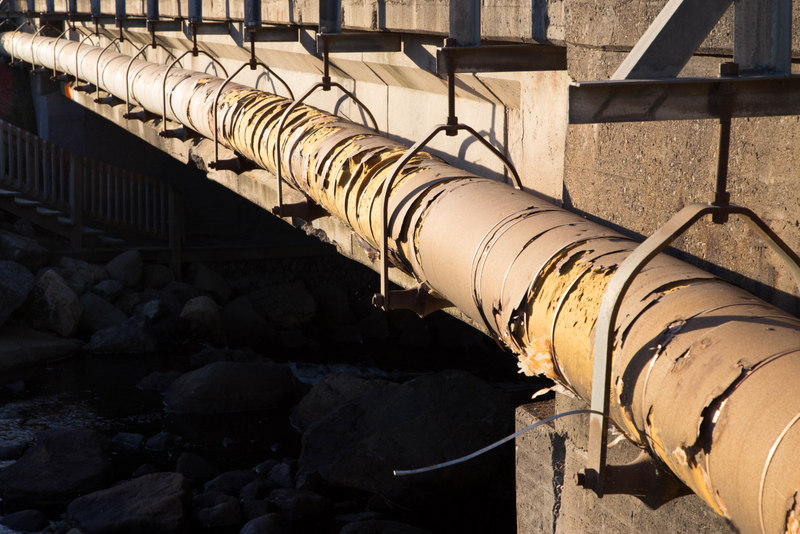 Photograph 3 – Backlighting: For the third picture, I had to photograph an outdoor object (not a person) that was enhanced by the effect of the sun coming toward the camera to backlight the object. I decided to photograph the sun coming through the branches of a tree, I like the effect and the transparency of the leaves that comes out – I will play around more with backlighting. To take this picture, I used my 24-105mm lense at a focal length of 24mm, shutter speed of 1/80 and F-Stop of f/11.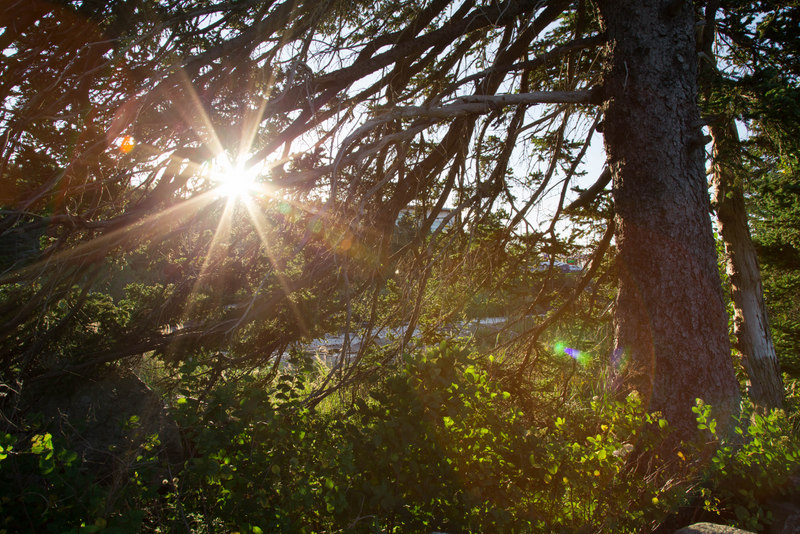 Photograph 4 – Diffused Lighting: For this picture, I had to take a portrait where the sun is diffused by clouds or shade. Our wedding anniversary was the perfect day for this – an overcast day with a bit of rain. We went back to the place where we had a picnic on our wedding day last year and took a picture in the same spot. This is a tradition that we will do every year, bringing the picture of the previous year with us to get a fun picture each year. To take this shot, I set my camera on a tripod with a timer. I used my 24-105mm lense at a focal length of 85mm, shutter speed of 1/60 and F-Stop of f/11.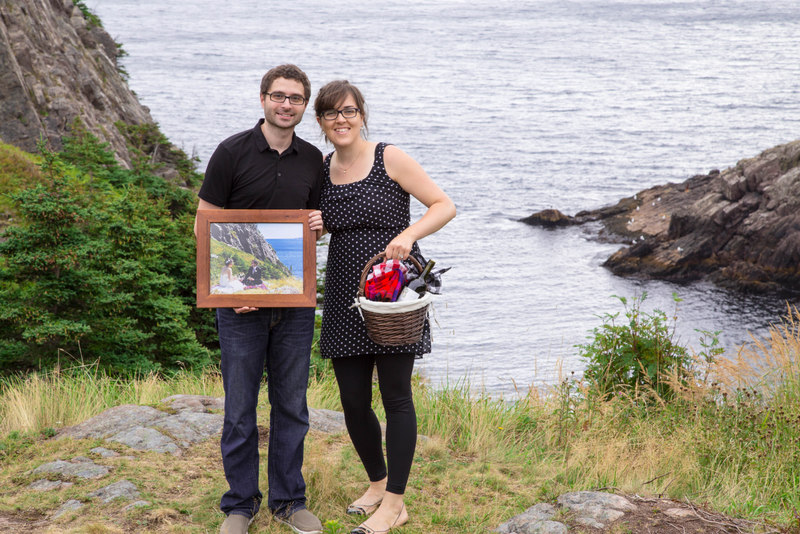 Photograph 5a – Still Life with 45 degree light: For this still life picture, we had to shoot a subject with 45 degree frontlight indoor or outdoor. I was so excited to have the opportunity to pick a subject that is related to my true passion: food photography! Since it is fall, I thought I would set up a still life with a basket of apple, my grandmother's tea pot and some handwritten recipes. I lit up this picture using my Canon Speedlite 430 EXII diffused with a white umbrella that I placed 45 degrees to the right of my camera. I used my 50mm prime lense at a shutter speed of 1/200 and F-stop of f/8. I really enjoyed playing with the strobe for this shot!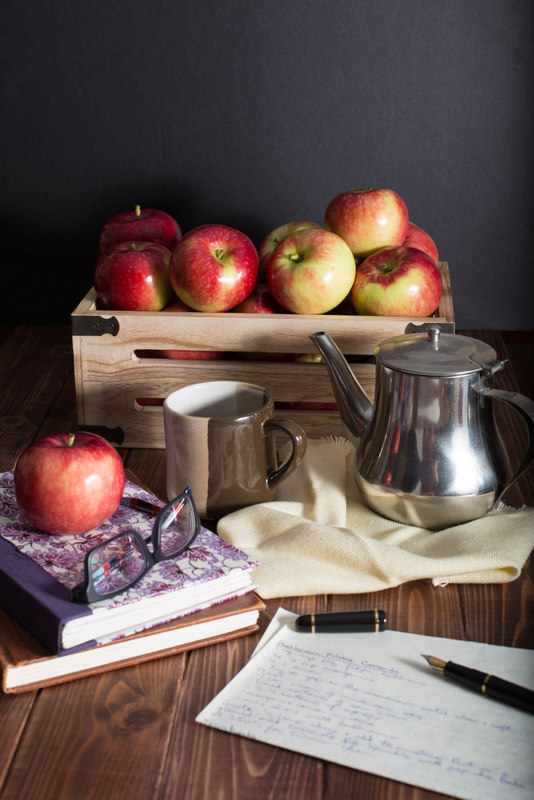 Photograph 5b – Still Life with Reflected Light: For this last picture, we had to use the same subject as above but add a reflector board to open up the shadows. In this case, I just added a white foam board to the left of the subject and you can see that the shadows are more open. The camera and flash are set up exactly the same as for photo 5a. It is pretty amazing to see how much light reflects off a white foam board! For this particular picture, I think I actually prefer the more moody look of photo 5a. What about you, which one do you prefer?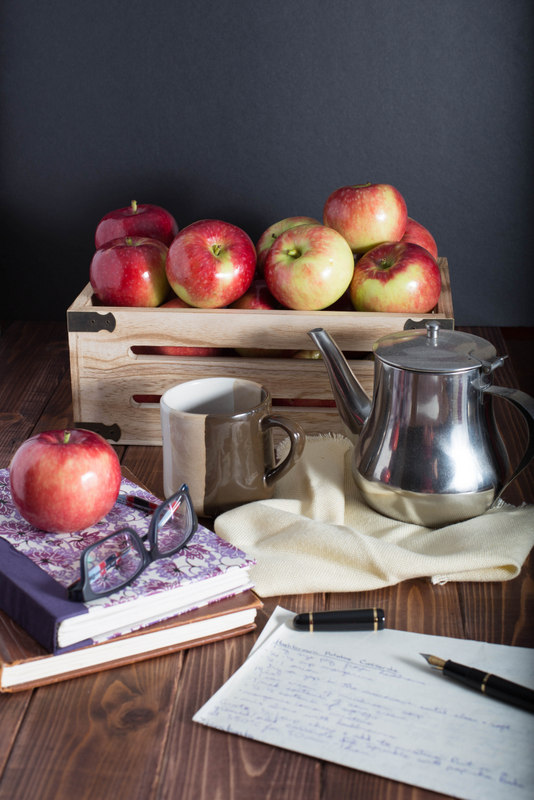 I am loving this course and as I write this, I am already through half of Unit 4 – Photographing People. This unit is so interesting! I get to practice a lot more with my studio setup and lighting equipment!! I can't wait to share my next review with you!
If you are interested in learning about other sections of this course, here is my review of  Unit 1 – You and Your Equipment, and Unit 2 – Capturing the Image.
Note: This post is not sponsored. The opinions expressed in this post are my own.