It is summertime and I love starting my day with a superfood smoothie. Since I am usually in a hurry in the morning and don't always have time to chop fruits, veggies and take out my jars of superfoods or grains (chia seeds, oats, matcha tea, maca powder, etc), I started making my own frozen smoothie packs. I had seen a few recipes on various websites (Simple Green Smoothies, Fabulessly Frugal) and thought I should give it a try to help start the day in the right way.
Last weekend, I made 3 different kinds of smoothie packs that I keep in the freezer and have been enjoying for breakfast or as an afternoon snack. I made  Banana Cherry Pie, Blueberry Fields and Green PB&J smoothie packs. I found that it is always great to make a few different kinds all at once, because it cuts down on the preparation time and gives you a variety of smoothies to prepare to always have new flavours on hand.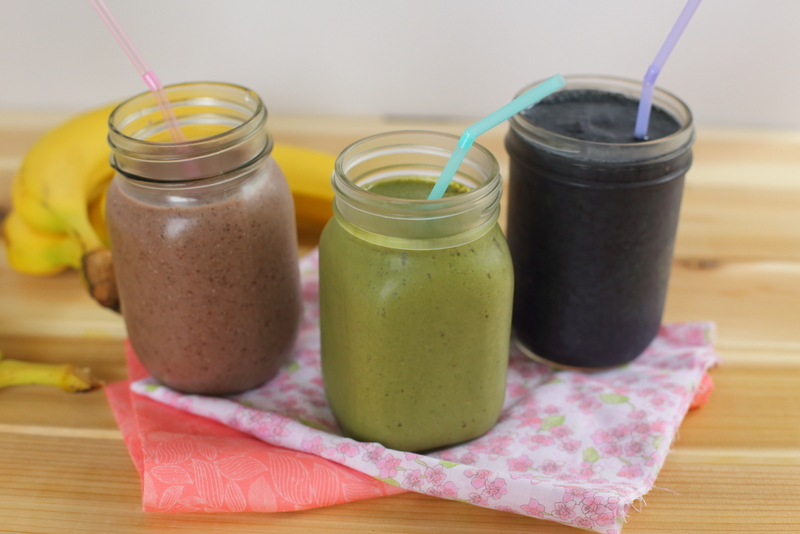 Making a smoothie pack is very simple and can be prepared in 5 quick and easy steps:
Select your favourite smoothie recipe.
Prepare all the fruits (you can use frozen or fresh), veggies (e.g. spinach, kale, avocado, etc) and other "dry" ingredients (peanut butter, oats, sunflower seeds, hemp seeds, chia seeds, maca powder, etc).
Place all the ingredients in a freezer Ziploc bag (do not add any liquids to your bag).
Label your bag with the name of your smoothie and the amount of liquid to add.
Place the bag in the freezer. When you want a smoothie, the only thing you need to do is pour the content of your ziploc bag in a blender, add liquid, blend and you get a delicious and quick smoothie.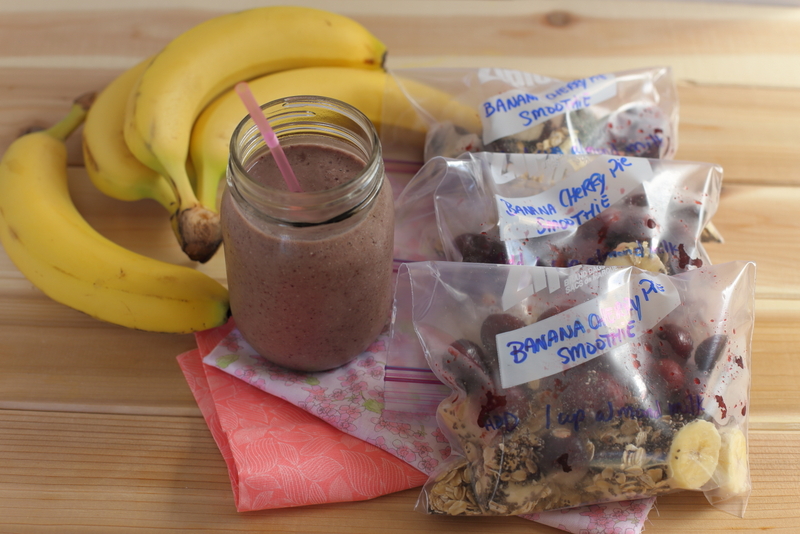 And now, to give you some inspiration if you want to try a delicious smoothie, here is my recipe for the Banana Cheery Pie Smoothie. It is a very simple smoothie with only 5 ingredients, but is so creamy and delicious. This smoothie combines sweet bananas with dark cherries, a bit of rolled oats and chia seeds for extra fiber and nutrients. When you are ready to prepare it, you can add almond milk or another type of non-dairy beverage.

Banana Cherry Pie Smoothie Pack
You can prepare smoothie packs ahead of time to ensure that you can always blend a delicious and healthy smoothie in less than two minutes. With this Banana Cherry Pie Smoothie Pack, you do all the preparation ahead of time, freeze your smoothie packs and can then enjoy a delicious and creamy smoothie.
Ingredients
1 banana, sliced
1 cup black cherries, pitted (I used frozen cherries)
2 tablespoons rolled oats
1 teaspoon chia seeds
Instructions
Place banana, cherries, oats and chia seeds in a freezer bag.
Label the bag with the name of smoothie and the following instruction: Add 1 cup almond milk.
Store the bag in the freezer until ready to serve.
When ready to prepare your smoothie, put the contents of the bag in a high-speed blender and add 1 cup almond milk.
Stay posted, in the coming weeks, I will share more recipe ideas to inspire you to create your own smoothie packs!