This salad is so simple, pretty and delicious! The colourful ribbons of vegetables are just so inviting! Top these with a really creamy mustard and garlic dressing and you have an amazing appetizer or side dish.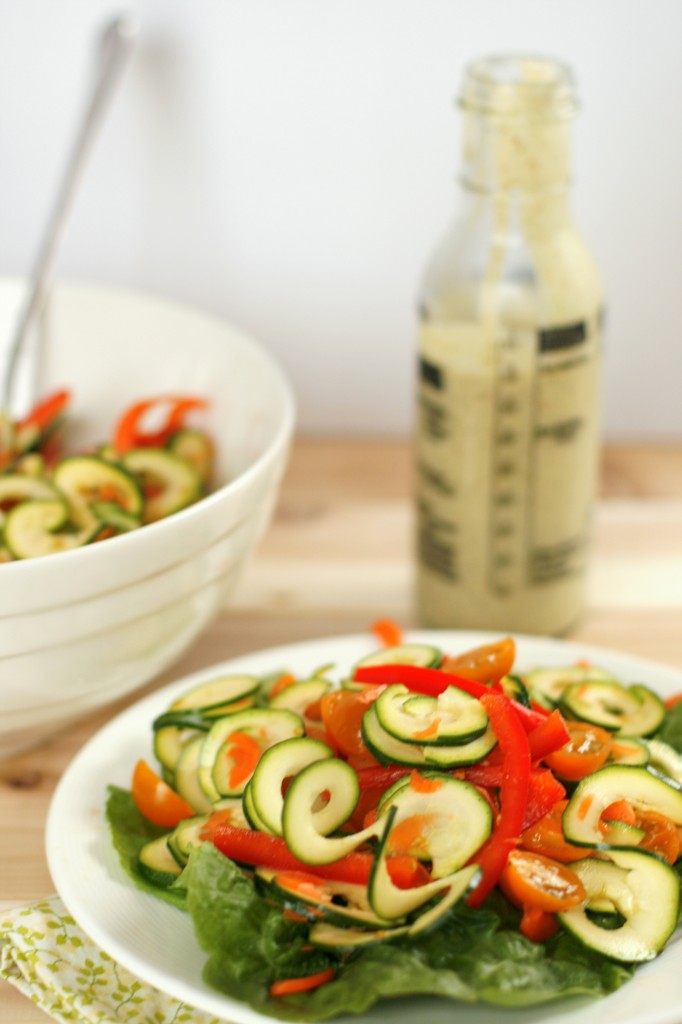 I used my spiralizer to give a fun shape to the vegetables, but you could also simply grate or thinly slice the zucchini and carrots if you don't have one.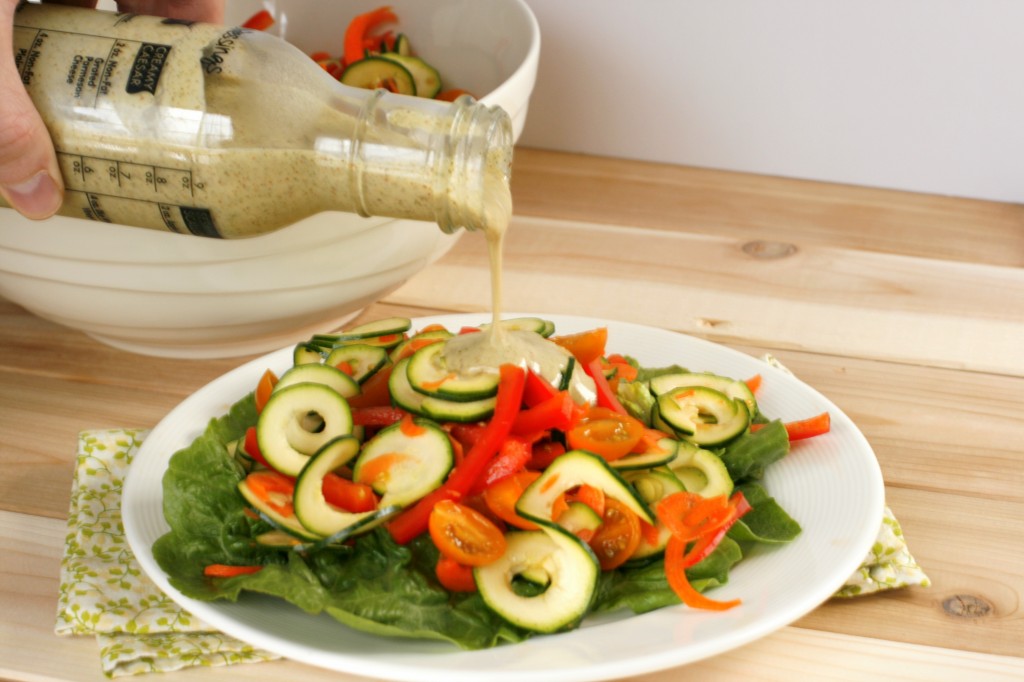 Zucchini Ribbon Salad with Creamy Mustard and Garlic Dressing
This simple salad is so colourful with its gorgeous ribbons of zucchini and carrots. The creamy mustard and garlic dressing is so delicious it will likely become a staple in your household.
Ingredients
Salad:
3-4 medium zucchinis, spiralized with straight blade (ribbon cut)
2 large carrots, spiralized with straight blade (ribbon cut)
1 red pepper, cut into thin juliennes
280 g sweet orange grape tomatoes, sliced in half
a few leaves of lettuce or baby spinach for plating
Creamy Mustard and Garlic Dressing:
½ cup olive oil
¼ cup red wine vinegar
3 cloves garlic
1 lemon, juiced
2 tablespoons fresh parsley
2 tablespoons old fashioned Dijon-style mustard
1 tablespoon agave nectar
1 teaspoon sea salt
¼ teaspoon cayenne pepper
Instructions
Salad:
In a large bowl, mix together spiralized zucchinis and carrots, red pepper and tomatoes.
Serve vegetables over a bed of fresh lettuce or baby spinach.
Pour creamy mustard and garlic dressing over each individual serving, mix well and enjoy.
Creamy Mustard and Garlic Dressing:
In a high speed blender, combine olive oil, red wine vinegar, garlic, lemon juice, parsley, mustard, agave nectar, sea salt and cayenne pepper.
Blend until smooth.
Transfer to a glass container and you can keep in the fridge for about 2 weeks.
Notes
If you will be serving all 6 servings in one meal, you could pour the dressing directly in the bowl and toss until all the veggies are coated instead of pouring the dressing on each individual serving. This way, the veggies will be evenly coated and you can then serve on a bed of greens. If you want to keep leftovers, I recommend not pouring the dressing ahead of time since the veggies will soften.