Pears are one of my favourite fruits and I also love love love matcha tea so I thought of creating a delicious treat with two of my favourite ingredients! Matcha green tea powder is not only filled with antioxidants, but it is also an energy booster. It is a bit pricey, but just a little bit of that amazing powder will take you very far! If you are looking for a great quality matcha powder, I truly recommend this organic matcha green tea powder.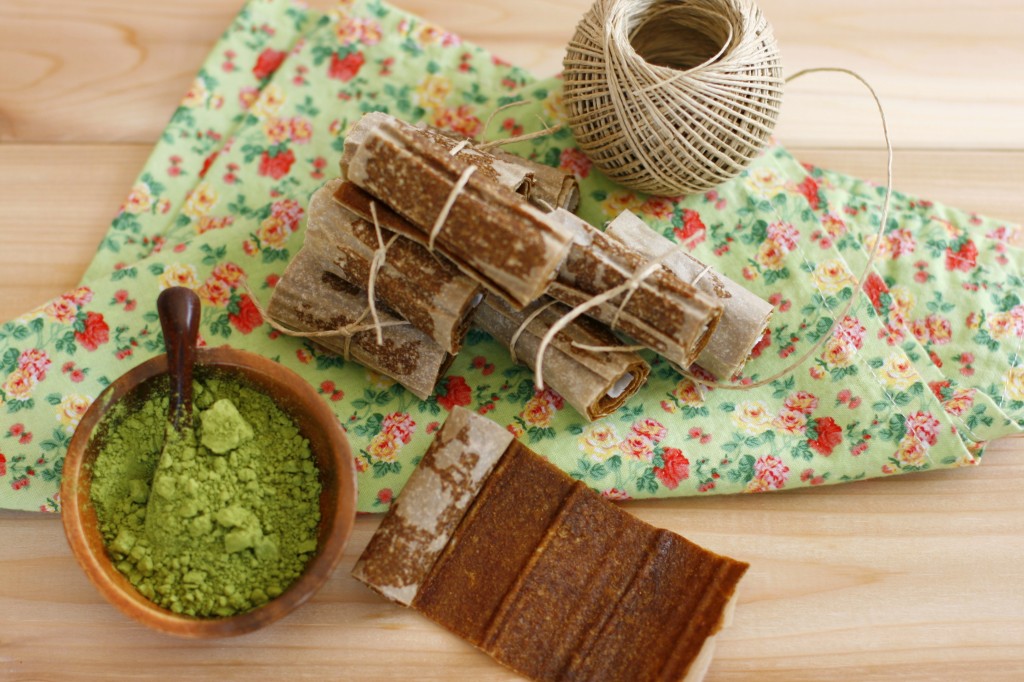 Here is another amazing fruit roll-up that you can prepare ahead of time and bring with you camping, on road trips or simply at work. It is made of 3 simple ingredients and literally takes less than 5 minutes to prepare. You only have to be patient as you wait for the fruit leather to dehydrate, but it is so worth the wait!
If you are like me and are making a batch of fruit leather, you might as well fill your dehydrator and make a few batches. For other ideas, you can check out my Blueberry Chia and my Strawberry Maca fruit roll-up recipes

Pear and Matcha Tea Fruit Roll-Ups
This simple fruit leather is made of only 3 ingredients: pears, apples and matcha tea. It is so delicious you will want to make a few batches!
Ingredients
2 pears, sliced
½ cup organic applesauce, unsweetened
½ teaspoon matcha green tea powder
Instructions
Puree pears with applesauce and matcha tea powder in a food processor.
Using an offset spatula, spread the mixture over a parchment paper-lined dehydrator sheet. Make sure it is approximately ⅛ inch thick and fairly even.
Dehydrate at 115oF for 8-12 hours. You want it dry enough so it does not stick, but it needs to stay pliable. Drying time may vary on humidity levels and thickness of your mixture.
Once it has reached the desired consistency, remove parchment paper from dehydrator tray. Keep the paper and fruit leather together.
Using scissors, cut the parchment paper together with the fruit leather in half.
Roll each half lengthwise.
Attach 6 strings on each piece and cut each roll into 6 smaller rolls.
Store in an airtight container for 2-3 weeks.