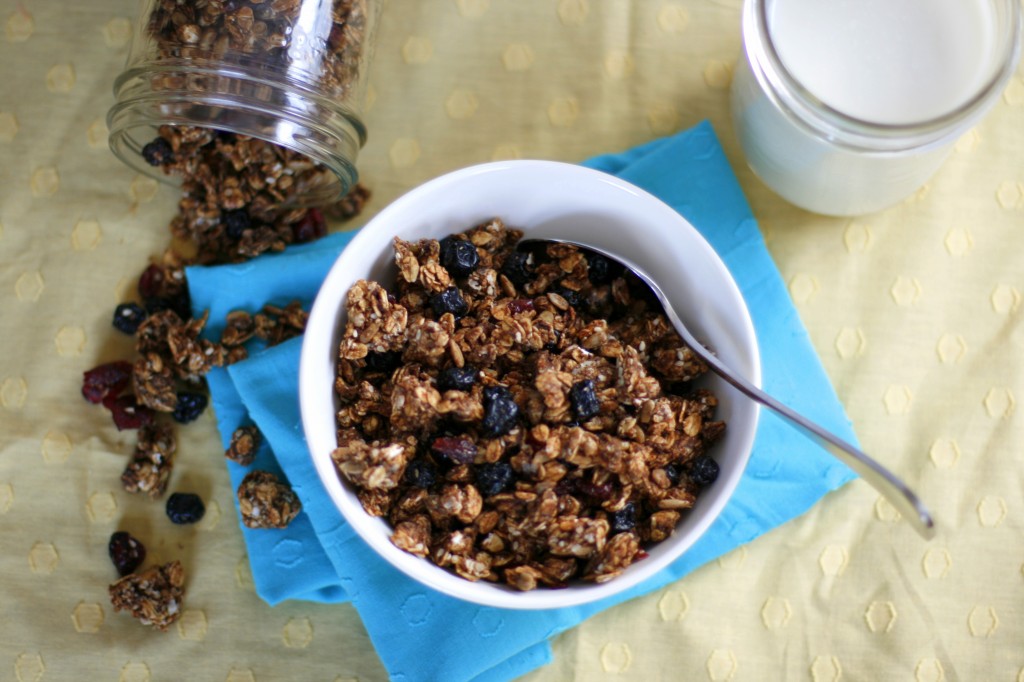 Granola is such a versatile food and is great to have on hand for last minute breakfasts or snacks. Sprinkling granola over a bowl of fresh fruits and yogurt is such a delicious and filling snack. I like to always keep a jar of homemade granola in my pantry, and on the plus side, I don't have to buy sugar loaded cereals at the store.
I have been making my granola without oil or refined sugar for a while now and I thought I would share my recipe with you. To replace the oil and sugar, I use mashed bananas, almond butter and apple sauce. These ingredients really help create nice clusters in the granola, which I love! It adds some texture and crunch to the granola. As usual, this granola recipe is gluten-free and in addition to using old-fashioned rolled oats, I added quinoa flakes and seeds for extra protein. The dried fruits  in this banana chocolate granola recipe adds a bit of extra sweetness.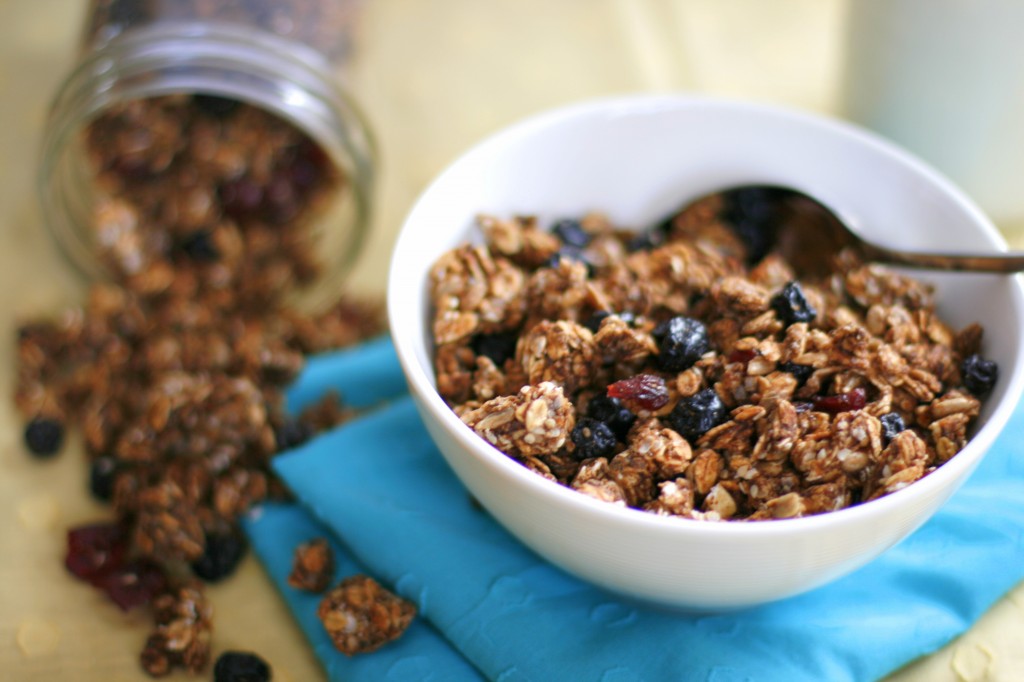 Banana Chocolate Granola
A healthy banana chocolate granola that can be enjoyed as breakfast or as a snack sprinkled over a bowl of fresh fruit and yogurt.
Serves:
6 cups (12½ cup servings)
Ingredients
1 cup apple sauce
1 banana, mashed
¼ cup almond butter
¼ cup cocoa powder
2 tablespoon chia seeds
1 teaspoon ginger powder
1 teaspoon vanilla extract
4 cups old-fashioned rolled oats
1 cup quinoa flakes
1 cup raw sunflower seeds
¼ cup sesame seeds
1 cup dried cranberries
1 cup dried blueberries
Instructions
In a large mixing bowl, blend together apple sauce, mashed banana, almond butter, cocoa powder, chia seeds, ginger and vanilla extract.
Incorporate rolled oats, quinoa flakes, sunflower seeds and sesame seeds.
Place the mixture on a parchment paper-lined baking sheet.
Bake at 325 degrees F for 35-40 minutes, mixing the granola every 10-12 minutes to avoid burning.
Once cooked, incorporate dried cranberries and blueberries into the granola.
Set aside to cool and store in airtight containers for about 2 weeks.
Notes
In this recipe I added dried blueberries and cranberries, but you can substitute with other dried fruits you have on hand, such as raisins, apricots, dates, etc.