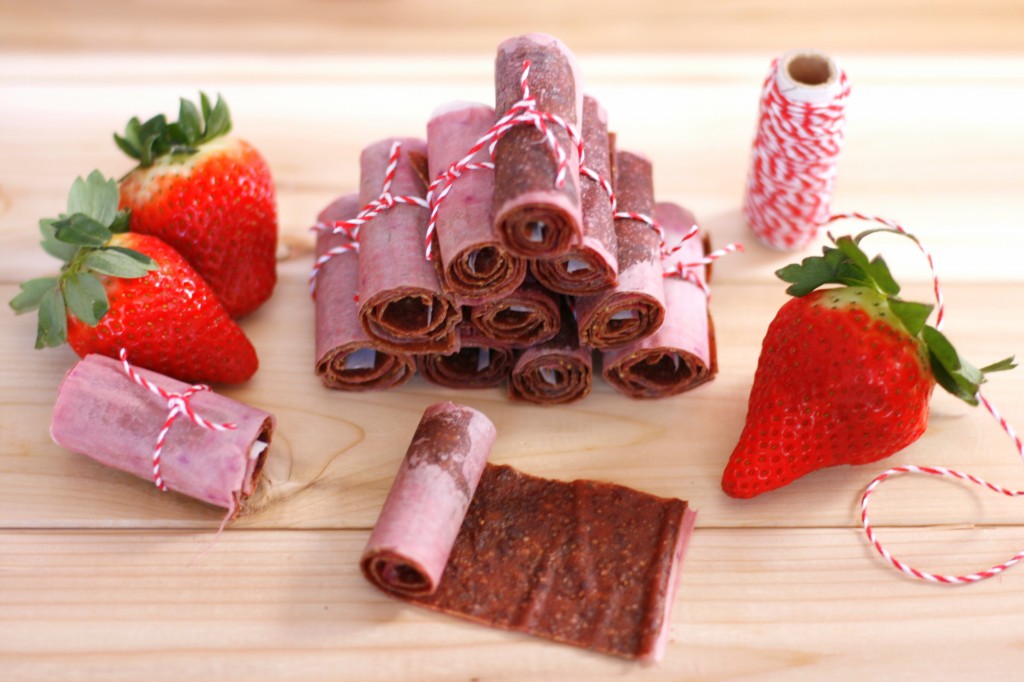 Today is Valentine's Day. I am not much for celebrating this holiday as I celebrate love everyday 😉 However, I thought I would share this lovely red snack recipe.
This strawberry fruit roll-up is such a fun snack packed with protein and nutrients. It literally takes 5 minutes to prepare as you only throw all the ingredients in the food processor, then spread on an Excalibur dehydrator tray and just wait forget about it for about 10 hours. You then have a delicious healthy snack to take with you at work or on the road.
Strawberry, Maca and Almond Fruit Roll-Ups
Ingredients
2 cups strawberries, fresh
½ cup apple sauce, organic and unsweetened
2 Medjool dates, pitted
1 tablespoon maca powder
1 tablespoon almond butter
Instructions
Puree all ingredients in a food processor.
Using an offset spatula, spread the mixture over a parchment paper-lined dehydrator sheet. Make sure it is approximately ⅛ inch thick and fairly even.
Dehydrate at 115oF for 8-12 hours. You want it dry enough so it does not stick, but it needs to stay pliable. Drying time may vary on humidity levels and thickness of your mixture.
Once it has reached the desired consistency, remove parchment paper from dehydrator tray. Keep the paper and fruit leather together.
Using scissors, cut the parchment paper together with the fruit leather in half.
Roll each half lengthwise.
Attach 6 strings on each piece and cut each roll into 6 smaller rolls.
Store in an airtight container for 2-3 weeks.
I made two other kinds of fruit roll-ups at the same time as the strawberry one. They are also quite delicious, here is a sneak peak below. You can try to guess the flavours while waiting for the recipes!